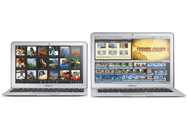 In theory, software updates are good things. They fix problems or add features and functionality. And that's certainly been the case with the recent OS X 10.6.7 update, which, among other fixes, improved the reliability of Back to My Mac, fixed problems with transferring files to certain SMB servers, and resolved issues with the Mac App Store. However, Macworld Lab stumbled across a problem introduced by the 10.6.7 update on the mid-2010 MacBook Airs. While it may be a minor issue affecting a small number of users, we decided to share our findings.
We discovered a graphics performance issue when running our Speedmark 6.5 benchmark test suite on a MacBook Air with the 10.6.7 update installed. We had updated the OS from 10.6.4 to 10.6.7 using the combo updater, a large download that doesn't require the previous update (10.6.6 in this case) to be installed. We found that the 11-inch 1.4GHz Core 2 Duo MacBook Air's Call of Duty scores dropped from 37 frames per second to 9.2 fps. Cinebench R11.5's OpenGL score also fell precipitously from an 11 to 1.8.
When the 10.6.4 update was reinstalled on the MacBook Air, the laptop maintained the 37 fps previously recorded on Call of Duty. With the 10.6.6 update installed, the MacBook Air's Call of Duty results remained at 37 fps. When the MacBook Air with 10.6.6 was updated to 10.6.7, the slower results reappeared.
The 13-inch 1.86GHz Core 2 Duo MacBook Air exhibited the same behavior, with Call of Duty frame rates slowing from 40.3 fps to 9.2 fps, and Cinebench's OpenGL score falling from 13.1 to 1.8.
We also tested the mid-2009 MacBook Air and the recently released 13-inch MacBook Pro, and found that 3D graphics performance was not affected on those Macs.
We shared our findings with Apple, but we did not receive an official comment.
In perspective
How many people are using MacBook Airs for 3D game play or for 3D content creation? I'd venture to guess that we're talking about a very small group. And thankfully, other application tests showed no performance degradation after installing 10.6.7.
Still, we think its worth knowing that if you own a mid-2010 MacBook Air, installing the 10.6.7 update may result in an unwanted decrease in the system's graphics performance. We will continue to monitor this issue.
[James Galbraith is Macworld's lab director.]