I tend not to learn life's important lessons. The last time Apple released an iPad, I pre-ordered it, and then slowly descended into madness as I waited for it to arrive. With the iPad 2's launch Friday, I'm again subjecting myself to the waiting game that is online shipment tracking.
My son—our third child—was born just two weeks ago, and my wife didn't look too keenly on the notion of my heading to the mall for many hours on Friday to stake out a place in line at the Apple Store. So I made my way to Apple's online store in the wee small hours of Friday morning.
The infant did help in that regard: After the 4 a.m. (Eastern) diaper change that he demanded early Friday morning, I fired up my laptop to place my online order— mere minutes after Apple began accepting such online requests.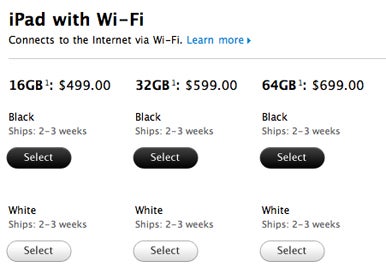 As my bleary, sleep-deprived eyes studied the online Apple Store's iPad selection screen, I saw that it was indicating iPads would begin shipping in 3 to 5 business days. (The Smart Cover I ordered would need 1 to 2 business days, and the wireless keyboard I added—since my old iPad Keyboard Dock has been rendered useless—should ship within 24 hours.)
Apple says I placed my order at 1:12 a.m. Pacific, though I didn't receive my Order Acknowledgment e-mail until 41 minutes later. I've yet to get any actual shipping confirmations, though podcaster Dan Benjamin—who ordered online about an hour after I did— says on Twitter that his Smart Cover, at least, is already on the way. (Perhaps color is a factor? Dan went with the gray cover; I picked green.)
Thank goodness for my young son's gastrointestinal regularity, though. The Apple Store Website now indicates that iPads—all models, in all colors and configurations—won't ship for two to three weeks.
Of course, you can still buy an iPad 2 in stores Friday; they go on sale at 5 p.m. local time wherever you are at Apple Stores, along with a few other chains like Best Buy, AT&T, Verizon, Target, and Wal-Mart. But it's quite possible that folks started lining up at those stores even before I woke up this morning.