The popular caveman racing game has gotten another update for iPad and iPhone gamers, even though it's still technically stuck in the Stone Age.
Pangea Software's latest update for it popular racing game Cro-Mag Rally brings two new multiplayer racing modes in the addition to the traditional racing mode.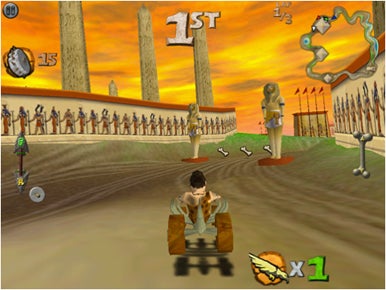 The 3.0 version comes with new Tag and Capture the Flag modes, joining the existing Racing mode. Capture the Flag pits racers against in each other in a "keep away"-style game that has the cavemen trying to be the first to steal torches from their opponent's bases without getting tagged. Tag works just like the game you played during recess in elementary school where the caveman race around crashing into each other to make their opponents "It."
The new modes eight new tracks to the game—Aztec City, Celtic, Coliseum, Maze, Ramps, Spiral, Stonehenge, and Tar Pits.
Pangea is offering the new features as a $1 in-app purchase, which unlocks all of the new tracks and new multiplayer modes. Players can still play the new games, however, if they are invited to play by a Friend who has already unlocked them.
The universal version of Cro-Mag Rally costs $4 and runs on iOS 3.1.3 and later.