The iPad 2 has arrived at stores across the U.S., and so have customers eager to get their hands on Apple's latest tablet.
At Apple's flagship Fifth Avenue store in New York, atrocious overnight weather kept the crowds small initially—two hours before the store opened its doors to iPad 2 customers, the queue in front barely extended out into the street. But as the clock got close to the 5 p.m. local time launch, the crowd grew, with the line stretching down the block and around the corner down Madison Avenue.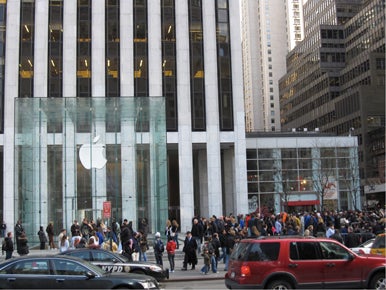 "It's been a real fun atmosphere out here, even when we were all freezing and soaking wet in the middle of the night," said Andrew Christian, a 26-year-old certified pharmacy technician who had been in line since 6 p.m. Thursday. That earned him the 11th spot in line at the Fifth Avenue store, close enough to the front for him to quickly get his hands on a new iPad.
"I'm excited by everything [about the iPad 2]—the faster graphics, the processors, the cameras, the thinness, even the Smart Covers," said Christian, who sold his original iPad a few weeks ago on eBay. "The first thing I'm going to do is download GarageBand because I'm also a musician. So I'm really excited to get my hand on smart instruments."
Friday's queue in New York eventually matched the huge line from April 2010 when the first iPad became available. The thinner, lighter iPad 2 has attracted buyers because of its fast performance and new features such as back- and front-facing cameras.
"I knew this second one would have cameras," said Jay Narang, a New York student who had been standing in line for more than three hours. He was 460th from the front of the line.
First place in line at the Fifth Avenue Apple Store cost Hazem Sayed $900—that's how much he paid to a college student who was offering to sell her spot in line to the highest bidder. But Sayed isn't complaining—he's an iOS developer who makes AskLocal, a location-based messaging app that allows you to pose questions to people in your vicinity.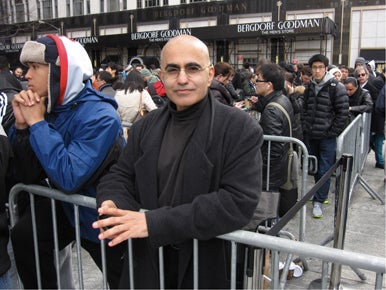 "It's totally worth it," Sayed said. "It's great publicity."
While promoting his app was the primary driver for Sayed to pay up for a place in line, he also says he's drawn to the iPad 2's support for HDMI output, available with the help of the optional Digital AV Adapter. "Being able to mirror the image on another monitor is really useful because now you can do what Steve Jobs does, which is show people what you're doing on the screen," Sayed said.
The scene in New York replayed itself at retail outlets throughout the U.S. In Philadelphia, the line outside the Apple Store on Walnut Street started to form around noon; by 5 p.m., it stretched clear around a city block. Apple Store employees ran the length of the queue shortly before the store doors opened, high-fiving patient consumers.
Eric Tsurumoto was near the head of the line. "I knew I wanted to get it at the Apple Store, because every launch is kind of an event," he said. Like many in the queue, he had skipped buying the first iPad and was primed for the newer edition.
"When the first one came out, I didn't think it was much, but when you see all the developers behind it, it looks like a great device," Tsurumoto said. "I can't wait to do Netflix on it, and Comcast has a great app to do on-demand ."
Carol Hammil, a Drexel University grad student from Egypt, stood next to Tsuromoto. She got in line after seeing that online orders would require her to wait days, or even weeks, for delivery of the iPad 2. "I don't want to wait that long," she said.
Hammil said she was looking forward to a lighter iPad, as well as the ability to use the cameras on the new device to easily video chat with friends and family back in her native country. "It's a great source of help for education, it's a great source of help for entertainment. It's a revolutionary product."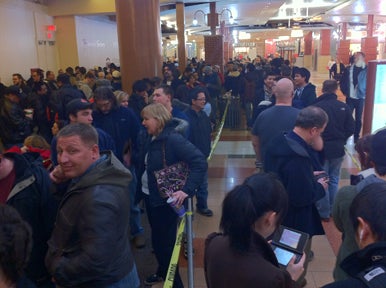 In Boston, many of the approximately 100 Apple fans who waited outside the Apple store ahead of the launch already owned the original iPad. A few were able to sell the first iPad for half or more of what they paid.
Paul Pezone paid $829 for his original iPad and was able to sell it for $650.
"I was an iPad 1 owner and I absolutely loved it, but I'm also a huge gamer. The thought that the graphics are nine times faster [in iPad 2] has huge potential for future gaming apps," Pezone said.
The iPad 2 is a substantial upgrade over its predecessor. The tablet has faster hardware, including a dual-core A5 chip running at 1GHz and a graphics core that can render full high-definition 1080p video. It provides 10 hours of battery life, the same as its predecessor.
The tablet is 8.8 millimeters thick, compared to the 13.4-millimeter thickness of the original iPad. Prices for the tablet start at $499 and extend to $829. Storage capacity ranges from 16GB to 64GB, and the tablet comes with Wi-Fi and 3G mobile broadband options.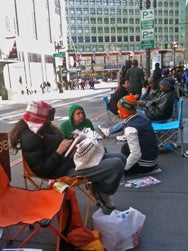 Apple Stores weren't the only outlets selling the iPad 2 on Friday. The tablet was also available from Best Buy, Target, and Wal-mart as well as from 3G service providers AT&T and Verizon. However, outlets other than Apple Stores seemed to have limited availability in options. At the Best Buy in the Walden Galleria in Buffalo, for example, the store claimed to have 15 tablets on hand, disappointing the crowd of 70 that had lined up in front of that retailer.
Fortunately, there's also an Apple Store in the Walden Galleria, where a crowd of several hundred had gathered. Kimberley Akiko of Buffalo was there to pick up her first iPad. "I am thinking of buying an AT&T model so I can videoconference with my children when I am on the road," she said.
Jorge Gonzalez of Richmond Hill, Ontario, had gotten to the Buffalo Apple Store by 10 a.m. "Still so many people in front of me," said Gonzalez, who was going to give his Wi-Fi model to his daughter with an eye toward upgrading to a 3G-equipped iPad.
Independent resellers were also offering the iPad 2 Friday. A few blocks down the street from the Walnut Street Apple Store in Philadelphia, Mac reseller Springboard Media was offering the iPad 2 to a smaller though still enthusiastic crowd of a few dozen shoppers.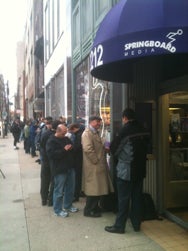 James Thomas was in line at Springboard, having sold his first-generation 16GB iPad earlier in the day for $350. "I'm just such an early adopter, a gadget freak, I guess. I liked the first one a lot," he said, though he does like the fact that the iPad 2 is thinner and lighter.
"I'm interested to see what kind of games and applications take advantage of that processor," Thomas added.
Bryce Gibson was also in the Springboard line. He had skipped the first-generation iPad. "I've been waiting for the 2 since the first one was announced," he said. "I'm a second-gen guy on Apple. I've been waiting patiently—I feel like I've been in line for a year. I'm finally getting my iPad."
The iPad 2 arrives as Apple is facing new competition in the tablet market, most notably from devices running Google's Android OS. Still, the crowd that descended upon Apple Stores on Friday didn't seem particularly interested in rival tablets like Motorola's Xoom.
Ahmed Elkday, a 21-year-old student, was among the crowd at New York's Fifth Avenue store. "I actually bought an Android tablet, but I like the iPad because it's smoother and has a more consistent UI," said Elkday, who sold his original iPad in December in anticipation of the iPad 2's eventual release. "I'm most excited about the increased power and graphics capabilities. Games, e-reading, and graphics will be a lot smoother."
Back in Boston, at 6:30 p.m. local time, the line to get an iPad 2 was still as long as it had been three hours earlier. When asked if the store was in any danger of running out of iPads, an Apple employee just smiled and said, "I don't think so."
Other stores weren't as lucky. The Emeryville Apple Store ran out of iPads shortly after 6 p.m. local time. The Chestnut Street store in San Francisco also ran out of stock roughly an hour after opening, and other customers around the country reported similar shortages to Macworld.
David Dahlquist reported from New York, Joel Mathis from Philadelphia, and Marco Tabini from Buffalo. Macworld's Stephanie Kent contributed photos from the San Franciso Apple Store on Stockton Street. Additional report from IDG News Service with Agam Shah and Nick Barber in New York and Boston, respectively, and from PCWorld's Tom Spring in Boston.
Updated at 5:05 p.m. PT with more information from Boston and New York. Updated at 6:27 p.m. PT with information on iPads selling out at Apple Stores.