The small size and portability of the iPhone, iPod touch, and even the iPad makes them easy targets for thieves. Leave one unattended for a moment on a table in a public place, or allow your bag to sit out of view for a few minutes, and your device may find its way into other hands.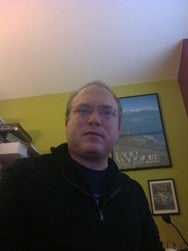 While you can't trigger a remote electrical charge to punish the malefactor who took your iOS device, you do have an opportunity to track it down, so long as you install software ahead of time. GadgetTrak, a $4 universal app, can help you recover an errant piece of mobile hardware. A separate $1 in-app purchase lets you opt to snap pictures (front and rear) on capable devices if the possessor is convinced to open the app. You can use GadgetTrak on any number of devices synced using the same iTunes account.
GadgetTrak is properly labeled theft-recovery software. It can't prevent a device from being stolen, and it doesn't have monitoring features that would, for instance, alert you if your hardware wanders more than a certain distance from a given set of GPS-tracked coordinates. I'm sure we'll eventually see a host of software like that; iHound, a subscription app, offers some of those features for family safety.
Instead, GadgetTrak operates in the background, waiting for remote instructions to trigger its tracking feature. GadgetTrak uses the iOS 4 background location service, which allows the app to register itself with the operating system—with your permission—and thereafter be available to be activated even when the app isn't running. This is true even if the app has been forcibly quit from the Dock.
After installing and launching GadgetTrak, you create an account or enter the credentials of an account you've already created. The company uses a monitoring Web site to handle interaction with the app after you've registered it. You set a passcode to prevent access to the program's settings. With the in-app camera purchase, you have an option to turn picture taking on and off. You can also set the interval at which GPS coordinates are captured when tracking is turned on.
Then you just forget about GadgetTrak until you need it. The one drawback of the app's always-available nature is that the location indicator appears next to the battery level in the iOS top bar even though GadgetTrak isn't burning up battery power when it's in standby mode. I've had GadgetTrak running for weeks, and haven't noticed any faster drop in battery power with it installed than before I started using it. When tracking is enabled, you will see the typical GPS battery drain on iPhones and 3G-equipped iPads.
To activate tracking, you visit the account Website and enter your credentials. You can do this from any browser. As soon as tracking is turned on, GadgetTrak sends a notification to the device that suggests a meeting is about to happen. Although the notification heading says GadgetTrak, a thief might still trigger the launch of the app, which then allows picture taking and other information gathering. If the phone is on its lock screen, swiping with a notification launches the app. An absconder might also tap Open accidentally or out of curiosity.
The Website tracks any GPS information that's sent and plots it on a map. If the current iOS device possessor launches the app, you're sent an e-mail with the photos taken and some network detail. GadgetTrak doesn't share this information with law enforcement; you have to contact police or other authorities. However, showing up with a map and timestamps can be convincing.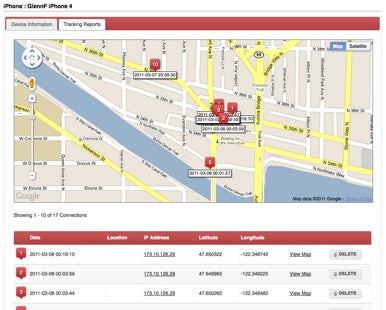 Of course, GadgetTrak requires that a device is on a network for any of this to work. Smart thieves may immediately power off a mobile device as soon as they can, or put it into a metal bag to prevent signals from getting through. The 3G iPad and any iPhone can retrieve precise coordinates via GPS receiver and access a 2G or 3G network to send data. iPod touches and iPads without 3G (or without an active plan) have to be connected to a Wi-Fi network to try to estimate a location and to send detail.
GadgetTrak differs from Apple's Find My iPhone (free to iOS 4 users for all their devices) in three important ways. First, Find My iPhone constantly updates location at regular intervals while the service is active, but it doesn't keep a history of that information. Second, Find My iPhone can't be remotely activated to take pictures. Third, GadgetTrak can't trigger remote actions like wiping the device, sending an alert, or setting a passcode that immediately locks iOS. I run the two together because of their unique advantages.
A thief can uninstall GadgetTrak without knowing the app's passcode unless you've used the Restrictions feature to turn off the ability to delete apps from your device without a passcode. (You can set this in Settings -> General -> Restrictions. Tap Enable Restrictions, set a passcode, and then slide the Deleting Apps switch to Off.)
You can take every precaution and still find yourself a device short. GadgetTrak adds to peace of mind at a low cost, especially if you own multiple iOS devices. Just as the best time to make a backup is before your hard drives suddenly meltdown, the best time to install theft-recovery software is before you're no longer able to.
[Glenn Fleishman is a senior contributor to Macworld who, knock wood, has never had a device stolen. Yet.]