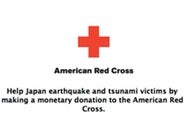 In the wake of the devastating natural disasters in Japan, Apple has begun offering the ability to donate to the American Red Cross via the iTunes Store.
While your credit card will be processed by the iTunes Store, 100 percent of the money you give will go to the Red Cross to help those in Japan who have been hit by this past weekend's earthquake and tsunami. Apple doesn't share your personal information with the relief organization, so your donation will be anonymous.
You can donate $5, $10, $25, $50, $100, or $200 via the page, though you can't use existing credit to with the iTunes Store to make a donation. If nothing else, this makes it easy and painless to make a much-needed contribution to aid those people in need.