The Contour GPS hands free camcorder crams a 1080p sensor, Bluetooth and GPS radios, removable storage, and a rechargeable battery into a small, lightweight package. Designed for outdoorsy types and extreme sports enthusiasts, the video quality is good for a camera this size and while the audio capture is good when stationary, there's a lot of wind noise when moving.
Watch my video of the Contour GPS in action on YouTube.
At its highest setting the camera can record 1080p video. There are also options to record in 720p or turn on a photo mode, where the camera snaps shots at certain intervals. While in the field, you can select two different modes by sliding a switch under the camera's rear cover. When the camera is hooked up to a computer, you can choose settings for each mode.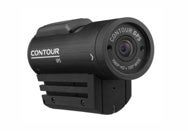 The unit ships with a 2GB micro SD card, expandable to 32GB, and can record about 30 minutes of HD video per gigabyte. There's a two-hour rechargeable battery in the box as well as three mounts, two rotating surface mounts, and one goggle mount. The rotating surface mounts attach with permanent adhesive to a helmet or something similar. The goggle mount is only temporary as it clips onto the strap of a pair of goggles. There are other mounts available separately including a headband mount, roll bar mount, and surf-wake mount for water sports.
The unit measures 3.7 by 1.3 by 2.3 inches (95 mm by 34 mm by 58 mm) and weighs 5.3 ounces (150 grams).
Unfortunately, the only real way to take advantage of the GPS on the device is by watching your video in the Contour Storyteller, which also lets you edit and upload your clips, or by viewing your finished movie on Contour's Website.
One of the tricky things about the device is setting up a shot because users need to rely on two laser guides. But not for long. Contour has promised a firmware update that will turn an Android or iOS device into a viewfinder for the camera.
The real benefit of this camcorder is its wide angle lens. It can shoot up to 135 degrees so even if a shot is framed a little off, chances are that you'll still catch the action.
The ContourGPS is the company's flagship hands-free camcorder with a feature set really aimed at extreme sports enthusiasts and people who lead very active lives outdoors. The video quality is good, the audio quality leaves a little to be desired, but for the right people, this could make a good addition to their gear. It's available now for $350.
[Nick Barber covers general technology news in both text and video for IDG News Service. E-mail him at Nick_Barber@idg.com and follow him on Twitter at @nickjb .]