Streaming movie rentals—like the type offered by Netflix, the iTunes Store, and Amazon Instant Video—let you enjoy movies on a whim, without having to order DVDs in advance or go out to rent one. And of course, they let you watch movies on devices that can't play DVDs. One problem, however, is that the ability to rent a streaming movie often comes weeks or months after its release on DVD.
Zediva has come up with an interesting attempt to get around that problem. The company buys DVDs of the hottest new releases, places them in DVD players, and then charges you a rental fee to stream the contents of DVDs to your computer or device. On Wednesday, the service went public after a long beta period.
How it works
To get started, you sign up for a free account and purchase credits for renting movies (new users who sign up before March 31 get two free movie rental credits). At launch, Zediva offers single credits for $2, or (for a limited time) 10 credits for $10. Rent a movie, and at the company's data center a physical DVD owned by Zediva is placed into a commercial DVD player—one tweaked with some custom hardware and software. You then get control over that DVD. (Right now the services uses standard definition DVDs only, no Blu-ray, but the company plans to carry HD content soon.)
Because you're watching the actual DVD, Zediva can offer access to all of the language and subtitle tracks it provides, including director's commentary. Unfortunately, you can't watch deleted scenes or other extra features. This gives you more flexibility than with a typical streaming rental, but not as much as with an actual DVD.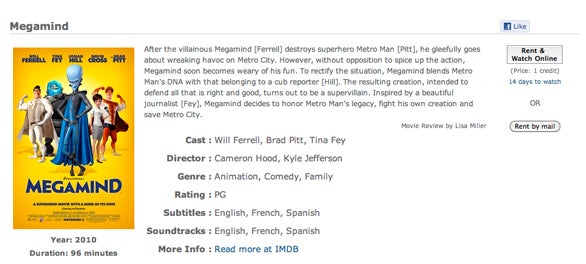 Each rental gives you up to 14 days of viewing. Each time you rent a movie (the company calls it re-renting every time you check it out during the two-week period), you have control of the DVD for four hours. There's no additional cost for re-renting a movie. The company purchases multiple copies of movies, but if a movie is rented out (all copies are in use by other customers) you'll have to wait until it's available again. (If you pause a movie for more than an hour, it's returned to the library to give other users a chance to watch it).
Rather than offering a huge library, the company's goal is to provide the top 100 movies of the past year. This provides Zediva with a competitive advantage over services such as Netflix that are limited by contractual agreements to when they can offer recently released movies. Although the company did indeed have many movies available to stream before Netflix when I tried out the service—and in fact before Netflix even had some of the DVDs to offer—I didn't find anything that I couldn't also rent from Amazon or the iTunes Store. The differences are price (as low as $1 a movie on Zediva versus $4 elsewhere) and rental period (14 days unlimited for Zediva instead of 24 hours once you've started, within 30 days for others).
The experience
To try it out, I signed up for a free account during the beta period. Then I picked The A-Team from the list of movies and clicked the Rent & Watch Online button (there's also an option to rent DVDs by mail, but the company said that's of secondary importance to its streaming business). Movies are Flash-based, and play at 480p resolution. The quality was generally excellent at native resolution on my Mac, and when viewed full-screen, the picture was a bit softer—but still very watchable.
In your account preferences on the site, you can tell the service to skip previews on the DVDs you rent and go right to the movie. You can also choose between picking up where you left off in a movie when you return to it or starting from the beginning. I configured my account to skip previews, and the service initially played a few seconds of a promo for the Digital Copy feature on some DVDs, then went to the DVD menu, then played a small portion of a preview, then started playing the movie. (A message popped up that said I might see parts of the previews while it found the beginning of the movie.) I also checked the movie back in and then re-rented it a minute later. A similar message regarding previews appeared, and once again I saw the preview parts, then the movie jumped to roughly the same point in the film I'd reached in my first viewing before seeking backwards about a minute to a slightly earlier point. Not exactly smooth, but close.
The on-screen controls are pretty easy to figure out, but the delay associated with controlling a DVD player from afar takes some getting used to. Dragging the slider to a different part of the movie showed me a DVD Player Seeking overlay. The movie then rebuffered after about 30 seconds and started playing again in the new spot. There's also a delay when you resume playback after pausing.
As mentioned earlier, Zediva supports alternative language and subtitle tracks from the DVDs. Click on the Subtitle button and, after an unexplained pause, you'll see subtitles appear as well as a box telling you which track and language you've selected. To go to the next subtitle track, click the button again and wait to see what appears. Some of the subtitles tracks worked fine, while others didn't display. It's the same process with the Language button. I was able to switch from English to Spanish to French, and finally to the director's commentary track.
Requirements
Because Zediva uses Flash to stream movies you'll need a Web browser with the Flash Player installed. The company also recommends a Mac, Windows PC, or Linux computer with a 2GHz dual core processor or better and 2GB of RAM. You'll need at least a 1Mbps Internet connection, although the company says a 3Mbps connection will offer superior results. I tested the service from my office on a quad-core 2.66GHz Mac Pro with 6GB of RAM, and 10Mbps Internet connection.
In addition, Zediva says its service works on Android 2.1 or later devices, as well as Google TV hardware. The company is working on HTML5 support, and says in its FAQs that, "we are working hard to add support for iPhone/iPad and game consoles like Xbox, PS3."
Conclusion
Zediva's model is an interesting one. By purchasing DVDs and streaming their contents to you from a physical disc, the company gets around the restrictions that movie studios place on the timing of streaming movie rentals. The rental terms are much more user-friendly than you'll find on the iTunes Store or elsewhere. And at $1 or $2 per rental, it's generally much less expensive than other streaming services that charge per movie.
That said, the limiting factor for this service isn't bandwidth, but the availability of physical DVDs and players in a data center. Given that you can't always watch exactly what you want to watch when you want to watch it, some people might not see this as a viable alternative.
Perhaps most importantly, it's unclear what the movie studios think about Zediva. Will they consider the service an unlicensed public performance and therefore a target not for The A-Team, but rather a much more fierce Legal Team?