Taking its name from the classic Swiss typeface, Calvetica is a calendar replacement app for the iPhone and iPod touch. Like Helvetica, the Calvetica app offers a simple and clean interface while also providing some helpful features absent from the iOS's default Calendar app.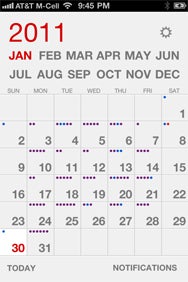 Developed by Mysterious Trousers, Calvetica works with the many common calendars, including Google Calendar, MobileMe, Exchange, and Outlook. Since this is a calendar replacement app, all of your interaction with creating, viewing, and editing calendar events takes place through Calvetica, while all of the changes you make sync back to the appropriate calendars automatically. This also means that notifications that are created in Calvetica will open in the regular calendar app when you choose an alert pops up and you choose to view the event.
Calvetica offers a custom interface that—with a few exceptions—doesn't really resemble what you might have come to expect from the standard iOS interface. Still, it's a very clean, easy-to-read look, and the spirit of the navigation is the same. Calvetica also works in landscape, which can be a bonus when viewing a lot of information at once. Mysterious Trousers has made Calvetica fairly customizable, with the ability to change menu bar colors, badge displays, and more. But Calvetica is not just a skin that sits on top of the regular calendar. It also contains a number of useful feature you won't see when you use Calendar.
Calvetica is very simple to use, putting as little friction as possible between you and the events in your calendar. For example, to enter a new event, you tap on the time you'd like entered, and begin typing. As you type, a small alarm clock icon appears on the side. Tapping this allows you to choose when you'd like to be reminded of the event, from five minutes to one month before. As a result, the data entry process can be completed in many fewer taps than what Calendar allows.
Like the built-in iOS app, Calvetica lets you choose which calendar you want as your default if you happen to sync multiple calendars (for example, an Exchange calendar for work, and a MobileMe one for home). Calvetica provides an option for prompting you to select which calendar you'd like to use when adding a new event; you can also simply have events go directly to the default account, saving a step. However, I found this prompt very helpful. I may have my default calendar set to add events to Exchange, and sometimes will forget to change it if I'm entering something in a rush. It's an instance where an extra reminder step can be very helpful because it gives you a chance to catch something that's easy to miss.
If you're not pleased with the options that the iPhone's calendar provides, and you're looking for a streamlined, easy-to-use interface, Calvetica is worth a close look. (A free version of the app lacks the multiple calendar support as well as some other features in the paid offering, but lets you enter events and set alarms. Mysterious Trousers compares the two versions on its Website.) Calvetica's alternative interface may be slightly jarring at first, but a lot of thought has been put into the design, and you may ultimately find it a preferable experience.
[Macworld contributor Beau Colburn lives in Brooklyn, NY and posts iPhone photos on his site Snap different.]