Apple has perhaps done more than any other company, outside of Adobe, to make PDF the cross-platform lingua franca format it is today. It did so, in large part, by incorporating the ability to create PDF files directly into the Print dialogue box in Mac OS X, and also by adopting the PDF format as a default for previewing files before printing. This was to Apple's advantage, as well as Adobe's, as PDFs were widely exchanged among desktop publishers and graphic artists long before the development of OS X, and Apple enjoyed a major interest in that market.
But more important, it's been to the advantage of everyday users, on all platforms—for many practical purposes, PDFs have replaced faxes; the format has also enabled individuals and organizations to save files in a format that can be viewed (and sometimes edited) even when the original application used to create the document is not available.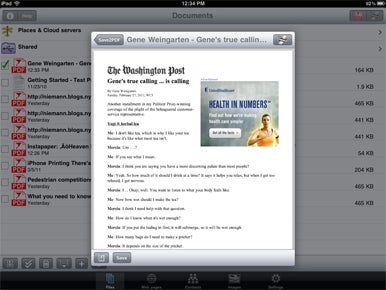 While reading PDFs on the iPhone and iPad has been possible via mobile Safari (if they're PDFs encountered while browsing), and also via many third-party apps such as GoodReader and Evernote, creating them has been another matter entirely. When EuroSmartz introduced Save2PDF for the iPhone and iPad late in 2010, it created a category in which it remains the primary option.
If you're not familiar with the company, it produces a slew of printing apps for the iPhone, iPod Touch, and iPad. As with all EuroSmartz products I've used, Save2PDF simply works, and includes some very useful document management and syncing capabilities as well. In apps that allow printing, when you're viewing something you want to save as a PDF file, you tap on the "sharing" dropdown menu (usually represented by a curved right-pointing arrow), which also usually offers print options. When Save2PDF is installed, you tap Print, and a dialogue box appears, allowing you to save the file as a PDF in a local directory.
From the Save2PDF app, you can collect documents; download and save files as PDFs from Google Docs, Dropbox, and other cloud services; e-mail files; export them to cloud locations; open them in other apps, such as GoodReader, Noterize, Quickoffice, or Evernote; preview the files; access contacts and photos; create text files; and combine multiple files into a single PDF. A built-in Web browser enables you to save and e-mail Web pages as PDF files, as well. You can also rename files, organize them in folders, and create zip (compressed) files from either individual files or folders, which helps save storage space.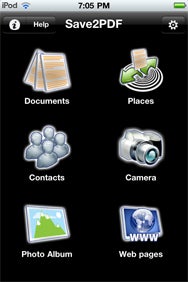 While Save2PDF is a superb app that provides a fairly unique function, it does have some flaws. During testing on the iPad running both iOS 4.2 and subsequently iOS 4.3, the app crashed more than a few times. More important in day-to-day use is that some of the interface icons are not very helpful, providing few clues as to what functions they will call up. Even after using the app repeatedly over a period of many weeks, it was difficult to remember the different capabilities to be uncovered by the plus (+) icon as compared to the "text bubble" (or is it a computer screen?) icon. This can be fixed on the iPad, as there is plenty of screen real estate to add either text labels or make the icons more easily decipherable.
The iPhone version works in a similar fashion to the iPad version, and while document management is more difficult on the small screen, navigating through the variety of options the app offers is, ironically (or, iconically) much easier: icons representing different functions are front and center on the iPhone app's startup screen, while on the iPad they're tiny and relegated to two small strips on the bottom of the screen.
[Jeff Merron is a freelance writer and editor living in North Carolina.]