A little more than three years ago, FileMaker had only started to offer a personal database program for Mac users intimidated by the extensive features of FileMaker Pro. Flash forward to 2011, and Bento has not only become a mainstay program for individual users on the Mac, but it's also available in versions for all of Apple's iOS devices.
On Wednesday, FileMaker overhauled its Bento lineup, rolling out version 4 of the personal database for the Mac while updating the iPhone and iPad versions as well. New features in Bento 4 tackle everything from new ways to share data stored in the application to performance-boosting enhancements. The mobile editions pick up some new capabilities of their own, including automatic location fields, an integrated voice memo feature, and support for iCal tasks syncing.
Many of the changes in Bento 4 are what FileMaker vice president of marketing and services Ryan Rosenberg described as "customer-driven stuff." With the update to Bento, Rosenberg told Macworld, FileMaker has "gotten around to things that, in many ways, have been on the list since the first version."
What's new in Bento 4
One of those top requested features was the ability to print labels from Bento. And that doesn't just mean creating address labels from contact records stored in Bento, according to Rosenberg. Scientists can use the label printing capabilities to print labels for samples, businesses can use the feature for inventory tracking, and event organizers can print out name tags from Bento.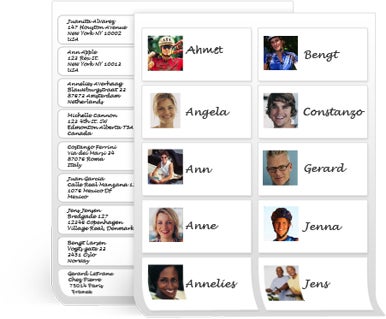 All told, Bento 4 offers more than 250 ready-to-use Avery and Dymo label formats. Users can build custom labels as well, making font and style adjustments right in the Print dialog. Users can also customize labels using fields and images stored in Bento.
Besides the addition of label printing, Bento 4 also promises improved form printing. The update adds a pair of printer-friendly themes that Rosenberg says will "make forms look the way you want." What's more, the new version expands form printing options, letting users print without field borders and field labels, among other tweaks.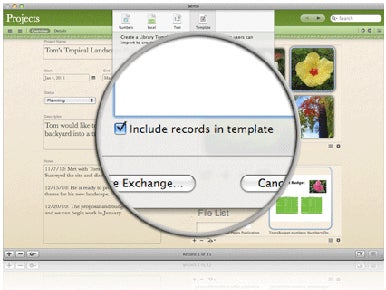 Multi-user sharing highlighted the changes in 2009's Bento 3 update, and this new release continues that trend of making it easier to share databases with others. Bento 4 users can export libraries populated with data and e-mail them to others—"It makes libraries as easy as sending a file," Rosenberg said.
Another enhanced sharing capability involves the company's Bento Template Exchange, an online resource where users can swap pre-designed database forms. FileMaker says the online exchange has grown to more than 800 free downloadable templates since its 2009 debut. And that figure should continue to grow with Bento 4, which introduces a streamlined option for uploading templates to the Bento Template Exchange.
FileMaker is expanding the Simple List feature it introduced in the last major update to Bento. That addition let users create free-form tables in their databases. Version 4 allows Simple lists to be more like spreadsheets, with the ability to insert numbers, data ranges, and calculations in fields. The effect, FileMaker says, is like having a miniature spreadsheet within your database.
Bento 4 introduces several other features aimed at making the database program easier to use. You can now lock forms to avoid making inadvertent changes to fields or even the layout of your database. The new version also introduces a number of auto-creation tools, including one for adding media fields. You can now switch from tables to forms with a simple double-click and it's easier to search by date in the new version—a welcome addition for users who've turned Bento into a kind of to-do list manager.
Updates to mobile apps
The desktop version of Bento isn't the only FileMaker product getting a refresh on Wednesday. Both the iPhone and iPad versions of Bento received an update Wednesday. And the 1.1 versions for both mobile database apps share a few features with Bento 4.
All three iterations of Bento now offer automatic location fields, in which your location is captured by the app whenever you add or modify a record. You can also manually set your location by dropping a pin on a map within Bento. FileMaker touts the location auto-tagging feature as ideal for users who want to log travel sites, inspections, and other location-specific data.
The mobile versions of Bento now include a built-in recorder for voice memos that can be stored in a media field of any Bento record. Those voice memos sync back to the Mac version of Bento, which supports playback.
The desktop version of Bento could already work with iCal task data. FileMaker extended that capability to its mobile apps in Wednesday's 1.1 updates, as Bento 4 for Mac can now sync iCal tasks with the iPhone and iPad versions. "We are now the best way to get iCal tasks on the iPhone and iPad," Rosenberg said.
The mobile versions of Bento add a few other features, including multitasking and high-resolution graphics for Retina Display-equipped devices. The mobile apps have the ability to edit Simple List data, and the iPhone version gains the ability to create and edit related records lists.
Where to get it
You can buy Bento 4 directly from FileMaker; the database application is also available from the Mac App Store. The new version costs $49, with a family pack of five licenses available for $99. If you use an earlier version of Bento, you're eligible for a $20 rebate when you upgrade.
The Mac software run on Mac OS X 10.5.7 or later, including Snow Leopard.
The new versions of Bento for iPhone and Bento for iPad are free upgrades for existing users. Both mobile apps cost $5 and can be downloaded from the App Store.