The Mac App Store might be getting all the publicity—and Apple's love—these days, but independent developers still have other ways of getting their products in front of the public: the software bundle, for example. And right now, Mac users have three bundles to choose from, offering a combined 29 apps for less than $140.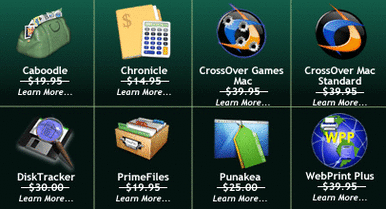 TheMacBundles.com is offering the greatest bargain: 10 apps for $40. It includes Caboodle and Cuteclips, a pair of clipboard apps; Chronicle and Debtinator, for budget-organizing; Crossover Games Mac and Crossover Mac, for using Windows software on your Apple computer; DiskTracker, Punakea, and PrimeFiles for organizing your computer's files and media; and WebPrintPlus, which lets you save, edit, and print directly from any program.
Meanwhile, Nova Development's Mac SuperBundle offers eight programs for $50. The apps here include TechTool Pro 6, for hardware diagnostics; Hallmark Card Studio Essentials; Xilisoft Video Converter; MoneyWell personal finance; Acqualia Pictureseque graphics utility; Binary Software for home inventory manageement; Font Explosion 500; and Marine Aquarium Deluxe 3.0 screen saver.
Finally, the MacUpdate spring bundle gathers up 11 apps for $50. The suite includes Parallels Desktop 6.0 for running Linux and Windows on a Mac desktop; Divvy, which helps users custom-divide their desktop screen for work efficiency; 1Password password manager; MacUpdate Desktop for software updates; DVDRemaster Pro and Mac DVDRipper 2; Hands Off! and App Tamer system-monitoring applications; TechTool Pro 5.0.7; Civilization IV strategy game; and A Better Finder Rename, a bulk file renaming utility.
The Mac SuperBundle deal expires April 12, but if you snap it up before March 21, you can also get a ninth program, iPhone Ringtone Maker, thrown in for free; its programs are compatible with Mac OS X 10.5 or later. TheMacBundles.com sale runs through April 4; its programs are compatible with Mac OS X 10.6 or later. The MacUpdate bundle expires March 31, and its programs are generally compatible with Mac OS X 10.5 or later.
Updated on 3/17 at 9:11 a.m. Pacific to clarify Mac SuperBundle deal.