The iPad 2 is off to another blazing start for Apple, which means the trickle of accessories for the new device should soon grow to a steady river. Here are some of the week's newly announced add-ons for gussying up Apple's latest tablet.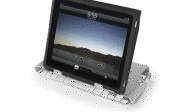 Macessity: Mac accessory maker Macessity has introduced the $40 KiiPad—pronounced just like keypad, but with a cooler spelling—for both first- and second-generation iPad models. The stand displays the tablet in landscape or portrait orientation, with or without a case, and your Bluetooth keyboard—Apple or third-party—slides underneath the stand for storage. The KiiPad is available now.
Padacs: This Australian vendor is working on iPad 2 updates to the company's two iPad keyboard cases. The $50 Toccata 2 Bluetooth Keyboard Case (based on the original Toccata) includes a Lithium-battery-powered, silicone-key keyboard that can run for 45 hours on a single charge. The $80 Rubata 2 Bluetooth Keyboard Case (based on the original Rubata) is slightly more tricked-out, featuring a synthetic-leather exterior to complement the technology inside. Both cases will be available when the iPad 2 is introduced in Australia in April.
Clamcase: Closer to home, Clamcase says it will soon launch a second-generation version of the company's $150 Clamcase keyboard case. The laptop-style enclosure opens up to display your iPad in portrait or landscape orientation, and includes a MacBook-style QWERTY keyboard that can be folded back for tablet-style use. Clamcase has not provided information on pricing or availability, saying only that the product will ship "in the near future."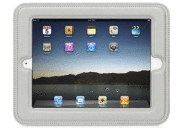 Griffin Technologies: Longtime i-device-accessory vendor Griffin, meanwhile, has redesigned its $40 Cinema Seat to hold the new iPad. This case, which will ship in late March, straps onto a car or airplane headrest to let you watch video hands-free. The company has also announced that its current Stylus, GuitarConnect cable, PowerDock Dual charging cradle, and Loop iPad stand accessories are compatible with the iPad 2.
Stay tuned for more iPad 2 accessory information—there's lots more to come, we're sure.