The race between major U.S. cable operators to bring live TV to the iPad has been won. Time Warner Cable brings home the trophy thanks to its new TWCable TV app, and you, avid cable consumer, can bring more than 30 major cable networks in HD to your iPad—but only when you're at home.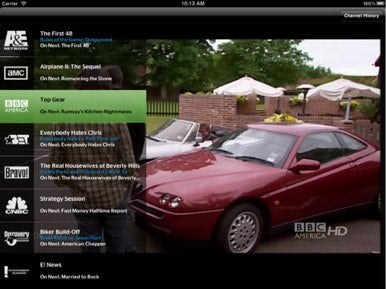 TWCable TV is a straightforward app for watching video, featuring a slick channel selection overlay. You can flip through the channel listing and begin streaming any live show to your iPad. The network selection is pretty healthy for a 1.0 launch, too, including: A&E, Discovery, Lifetime, Nick, SciFi SyFy, CNN, Disney Channel, HGTV, History, Travel Channel, USA, and more.
There is, however, at least one big drawback to this app's portability, at least for the launch. It is no surprise that only Time Warner Cable subscribers with at least a Standard (Expanded Basic) TV package or higher need apply. But not only can TWCable TV not be used on a 3G connection, it only works over Time Warner Cable's broadband Internet services, Road Runner and Earthlink. Customers will essentially need to be at home (or the home of a fellow Time Warner Cable subscriber) to stream their Time Warner Cable TV service to their iPad, when that programming is likely accessible just a room or two away on a much larger screen.
That said, Time Warner Cable has still technically beat Comcast and Verizon to the punch for getting live TV streaming onto the iPad. Of course, if you're willing to pay for some extra hardware and software, you can always get set up with SlingPlayer Mobile for iPhone and iPad to stream any of your cable programming anywhere you can get a decent connection over 3G and Wi-Fi.
TWCable TV is available now for free in the App Store. In addition to aforementioned service requirements, you'll need an iPad running iOS 4.2 or later.