Editor's Note: This review was originally posted on March 17, 2011. For the 2012 tournament, version 2.0.2 of the renamed NCAA March Madness Live app remains a free download. The free version includes live game radio and social chatter for every tournament game. For live video streaming of games, you'll need to buy a $4 in-app purchase.
When you release a new version of a mobile app each year—as opposed to updating an existing app that existing users can download automatically—you've got to give people a compelling reason to hustle over to the App Store and grab the upgrade. The folks behind the NCAA March Madness On Demand app— NCAA Digital, in this case—seem to understand this concept better than most. Because this is the third consecutive year that an app is streaming ever game of the NCAA men's basketball tournament to Apple's iOS devices. And the latest version of the app improves upon what's come before.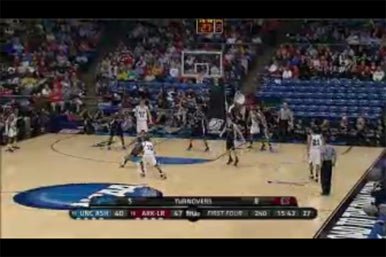 Live NCAA tournament streaming to the iPhone made its debut in 2009 with CBS Sports March Madness on Demand. That $5 app let you watch any tournament game live on your iPhone or iPod touch via a Wi-Fi connection. The 2010 edition of the March Madness app upped the price tag to $10, but also added the ability to watch games over 3G in addition to Wi-Fi while also making great use of the iOS's notifications features.
This year's NCAA tournament app continues the steady stream of improvements. The CBS Sports moniker is gone, most likely a nod to the fact that the 67-game tournament is now televised across four networks. More important, the iPad has been added to the mix—NCAA March Madness on Demand is a universal app that runs on all your iOS devices. But the most welcome change may be what's been dropped from this year's offering—a price tag. Watching games on NCAA March Madness won't cost you a dime, removing the last remaining hurdle standing between iOS-toting hoops fans and a month's worth of basketball bliss.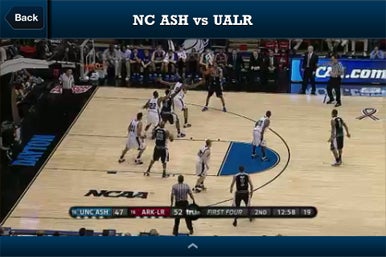 As with last year, you can stream games on either a Wi-Fi or 3G connection. The picture is noticeably better over 3G—I saw more blurring and artifacts on the Wi-Fi stream, particularly when the action became fast and furious, and it was hard for me to make out graphics like the score and time remaining. Then again, we no longer live in a world where everyone enjoys unlimited data plans, and streaming video over 3G can eat up your data allotment fairly quickly. The Wi-Fi stream will be good enough for most viewers;if you're lucky enough to still enjoy unlimited data, then watching over 3G is the way to go.
I don't have a 3G-equipped iPad at my disposal, so my first exposure to the brave new world of NCAA tournament action on the iPad's larger screen was over Wi-Fi. Perhaps that explains why I found the experience a little underwhelming. Rather than provide a more expansive space for the hardcourt action, blowing up the stream to fill the iPad's 9.7-inch screen highlighted the flaws and imperfections of the Wi-Fi stream. That's not to say that the video wasn't perfectly watchable, particularly for a free app—it's just that the iPad implementation didn't really blow me away.
I found the picture much more clear when I watched it through a smaller, practically iPhone-sized window on my iPad. To dress this view up a bit, the iPad version of the March Madness app flanks the smaller video window with information about each teams' top scorers on opposite sides of the window and scores from other games on the top. The bottom of the screen is filled with ads, and you can expect an ad from one of the app's sponsors to play whenever you launch a live stream—even free apps come with some cost, after all.
You will have to part with some data to use NCAA March Madness on Demand. The first time you try to watch live video on the app, you're asked to enter a name and e-mail address; just be sure to opt out of that somewhat hard-to-spot checkbox for receiving promotional mailings. If you run March Madness on Demand on multiple iOS devices, you will have to sign in for each device, which is a minor nuisance.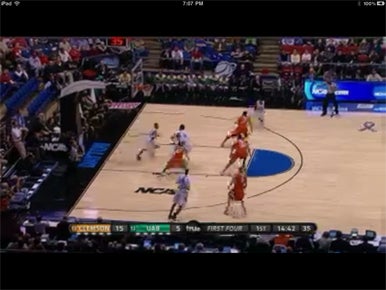 When you launch NCAA March Madness on Demand for the first time, the app will ask you to enter in your zip code so you can locate your local cable provider. You can skip this step, but don't—selecting a cable provider will add what channel each tournament game is airing on and when, for those moments when you actually are in front of a television set. With games airing on CBS, TNT, TBS, and something called TruTV this year, that kind of programming information is more valuable than you might think.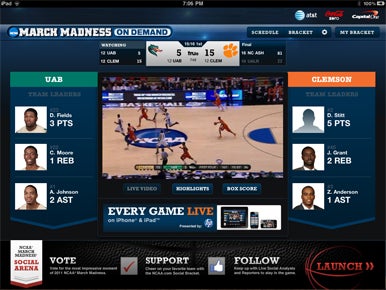 The app does take one step back from last year's version in the way it implements in-game stats. Tap on the Team Leaders tab in the iPhone version or Box Score in either the iPhone or iPad, and you'll leave the live stream for a static page of statistics. Last year, those facts and figures appeared over the action, so you never missed a moment of hoops.
Thankfully, the notifications feature has been untouched, and it remains as valuable as ever. NCAA March Madness on Demand lets you set alerts for your favorite team or teams. You can also have the app sound the alarm when a potential upset is brewing, when a game is close with five minutes left to play, or if a game is headed to overtime. It really helps you keep on top of the action, especially if you find yourself locked in an office over the next couple days when the opening rounds of the tournament are at their most frenetic.
NCAA March Madness on Demand has a few other features, including a bracket that shows the result of every tournament game. (You'll need to do some scrolling on the iPhone in order to see all the bracket, but it's implemented in a way that makes the most of that device's screen space. The bracket fills the iPad's entire screen; incredibly, you can't pinch to zoom for a closer look.) There's also a link to a NCAA-sponsored game picking contest, which is of little use to you if you haven't already entered.
I can quibble about the iPad implementation of NCAA March Madness, but I can't fault the price tag. At the end of the day, you've got an app that ensures that you don't have to miss a moment of NCAA tournament action even when you're nowhere near a TV. That's the stuff that tournament MVPs are made of.