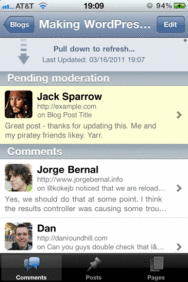 WordPress has updated its blogging app for iPhone and iPad, correcting more than 100 bugs and slightly revamping its user interface.
Version 2.7 of the blogging app appeared Wednesday in the iOS App Store. Although it concentrates mostly on fixing the bugs and crashes that afflicted previous versions of the app, it also adds a new "pull to refresh" feature so that users can see the latest comments, posts, and pages on the blogs they manage.
The app can be used to moderate and post to a WordPress.com blog, or a self-hosted WordPress.org site running version 2.9.2 or higher. WordPress is cautioning app users they may need to re-enter their site passwords in the app after installing the update to their iPhone or iPad.
WordPress 2.7 is free and compatible with any device running iOS 3.1.3 or later.