More than a year ago, The New York Times announced that 2011 would be The Year of the Paywall for its content, but details like pricing and exactly which content the wall would affect were scarce—until Thursday.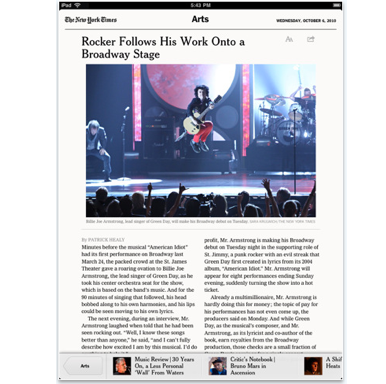 Come March 28, The New York Times will begin metering access to articles at its Website as well as offering a handful of Digital Subscription plans for users who want to read content via their smartphones and tablets.
Each month, users will freely be able to read up to 20 articles at the newspaper's Website, though links from Facebook and Twitter will not count against this quota. If you want to read more than the allotted number, you'll need to sign up for the NYTimes.com Plus Smartphone App plan at $15 per month. As the verbose name suggests, that plan will get you unlimited browser access to the Times's site via all the devices you own, as well as unlimited access via the company's official smartphone apps for iPhone, BlackBerry, and Android.
If you want to read via The New York Times's iPad app, which gained access to most of the pubilcation's content last October, you'll need the NYTimes.com Plus Tablet App plan, which runs $20 per month. This plan also offers unlimited browser access to the Times's site on all your devices. But while it enables you to read the publication via its iPad app, the Times Reader 2.0 app for traditional computers, and the NYTimes Web app for Google's Chrome browser, it does not include access via the smartphone apps.
If you want ubiquitous Web and app access to The New York Times, you'll need the All Digital Access plan for $35 per month, which includes all aforementioned apps across all supported platforms.
As All Things Digital notes, The New York Times will make its smartphone and tablet plans available via the App Store's new subscription feature by June 30, in order to comply with Apple's rules. This means the subscription will eventually be available in-app, where it will still cost $20, but users will gain App Store perks such as clearer control over whether their personal data is shared with third parties and an automatic subscription pause if The New York Times raises its price. Apple will also collect 30 percent of the subscription fee from each user who signs up from within the app.
The New York Times will also toss in its All Digital Access plan to all Home Delivery subscribers of the print edition for no extra cost. Even the Monday-through-Friday subscription, which is just $15 per month for the first three months, will get full digital access, which presents a potential savings loophole of $20 per month for the duration of the introductory rate, as long as you don't mind getting a paper delivered to you every day. (Of course, it jumps up to double that rate after the offer expires, so it's really only a limited-time loophole at best.)
Though the Times won't launch this plan in the U.S. until the end of the month, a limited subscription is available in Canada starting on Thursday. According to its extensive FAQ on the new digital subscriptions, The New York Times says that it is using Canada as a test bed before releasing the digital subscriptions to its primary readership.
While The New York Times isn't the first publication to announce support for the new App Store subscription features, it's probably the most significant win for Apple so far. News Corp helped Apple usher in the feature in February with an all-new iPad-based publication, The Daily, though the app has suffered from poor performance and rumors of low subscription numbers in the face of high startup and production costs.
A handful of other publications hopped on board shortly after Apple made the subscription feature available to all developers, including Popular Science , Nylon , and Elle, though others have balked at Apple's high cut of revenue and lack of control over subscriber data. The addition of a powerhouse such as The New York Times may, however, add support to Apple's cause and convince some previous holdouts to give the service a new look.
Updated on 3/17 at 12:39 p.m. Pacific to clarify print subscription prices.