JProductivity's $5 MyPhoneDesktop and Sens Digital's free PasteFire are two similar apps that let you send info from your desktop computer to your iPhone, iPad or iPod touch. What's the point, you may ask? Well, imagine that you've pulled up a Google map on your Mac or PC, which you'd like to view on your iPhone. Just copy the URL, click a button or two and the link shoots over to your device, opening up in the Maps app automatically.
This can be useful with other types of data too. Hard-to-type URLs—like Amazon links, for example—can be sent from your desktop computer to mobile Safari. Phone numbers sent to your iPhone can be dialed automatically. Text can be put onto your device's clipboard, where it can be tweeted or used elsewhere. Additionally, rather than typing a long SMS message on your iPhone, you can type it on your computer then shoot it to your iPhone where you can then send it on to its destination.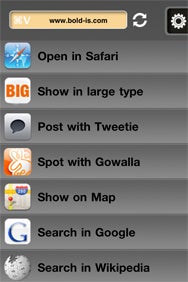 In the past, I would handle some of these tasks by e-mailing myself the information and retrieving it on my iPhone. Although not an incredibly difficult or time consuming process, that definitely qualifies as a kludge, so I appreciate having more elegant options. So, with either of these apps, how do you get this information from your desktop computer to your i-device?
Both apps provide a Web-based solution that lets you send data to your device. PasteFire's solution is a simple Web form hosted on the developer's site. Simply navigate to the form, enter your device's identity and then paste the info you've copied. The data is then sent to your mobile device where the PasteFire app analyzes it, deciding whether it's a phone number, URL or Google map link, or what have you. The app then either presents appropriate services to handle this data or makes its best guess and launches that app automatically. (That's an option the user configures.)
MyPhoneDesktop takes a slightly different approach. Its Web-based app is fancier, asking you to classify the type of data you're working with, such as a URL, phone number, image, or Google Map. Depending on the type of data you provide, it either appears within the app on your device, where you can then do more with it, or it opens within the appropriate service, such as the Maps app, for example. MyPhoneDesktop provides an iPad-optimized interface, which is quite useful when working with text-based information within the app, as the extra display area and larger keyboard are much appreciated. (PasteFire will run on the iPad, but not in an optimized format.)
Both MyPhoneDesktop and PasteFire allow you to "push" or "pull" data. In push mode, a standard iOS push notification appears on your screen almost instantaneously to let you know that your data is available. In pull mode, you must open the app to receive the data. On iOS4, MyPhoneDesktop can run in the background and receive clipboard data for 10 minutes after having closed the app.
Each app also lets you add a "bookmarklet" to your Web browser's bookmarks menu or bookmark bar, allowing you to send data via your Web browser without using the Web-based app. PasteFire also provides a Chrome extension which functions much like its Web-based app, while MyPhoneDesktop provides plug-ins to Chrome and Apple's Address Book, as well as the popular Mac desktop utilities Launchbar and Quicksilver.
Both apps also provide a native desktop utility. PasteFire's app is available for Windows, Mac, and Linux, but it's a very rudimentary, pre-1.0-version offering. On Windows, the app lives in the system tray in the lower-right corner of the task bar while on the Mac, it is implemented as a Snow Leopard-only Service that works only in Cocoa-based apps. (I have not used the Linux version.) In comparison, MyPhoneDesktop's desktop app, which runs on Mac and Windows, is much more powerful. In fact, it's virtually identical in appearance and function to the Web-based app, but with one big difference: It allows you to import your contact list, either from the Mac Address book, Microsoft Outlook, Mozilla Thunderbird, or a CSV (comma separated values) file, which is very useful for sending data to your phone, SMS or Skype contacts.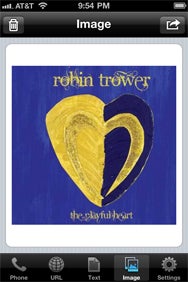 MyPhoneDesktop is also better than PasteFire at handling images. To send an image to your device from MyPhoneDesktop, you open the desktop app and either provide a URL to a Web-based image or drag-and-drop an image from your local machine. You can then either display the image on your device or copy it to the camera roll. In contrast, PasteFire's image handling is very sparse. No matter which interface you use, the best you can do is provide the URL to a Web-based image, then send that to your device, where you can open it in Safari and then save a copy of it. I have yet to determine how to get PasteFire to send a locally-stored image to my iPhone or iPad.
Similarly, MyPhoneDesktop's SMS support is more polished. PasteFire will accept a phone number and offer the SMS service, but you still have to compose the message on your device. Alternatively, you can send text over to use as an SMS message, but that simply places it onto the clipboard, where you then must paste it into the SMS message field yourself and then select the recipient manually. MyPhoneDesktop lets you select the number AND type the message, then send everything over to your device in one step, where you simply send it on to its destination. If you use Google Voice, you can also initiate calls and SMS messages with that service.
I have been working with each app on both my iPhone and iPad. Since I like to work in push-mode, I have created individual accounts for each device, which lets me send info to each one and receive push notifications separately. Either app's Web-based approach makes it easy to switch accounts since you have to provide the account info each time you use it. But MyPhoneDesktop's desktop app makes the process even easier by letting you store multiple account settings and then switch among them with a single click. In contrast, I've found no way to do this gracefully using PasteFire's rudimentary desktop tools.
After working with each app, I clearly prefer the $5 MyPhoneDesktop because of its superior desktop app, handy contact management, full SMS support, and its ability to work with local images. All is not perfect, though. Google Map links occasionally don't appear properly in the Maps app. (They're zoomed out too far and require additional futzing in order to get to a good level of detail.) Additionally, it would be nice if the app would provide direct support for Twitter, Facebook, and so forth. But I consider those to be minor annoyances, which could easily be addressed in future versions. (Indeed, the latest version of MyPhoneDesktop delivers the ability to add tasks and to-do lists to InstaTodo and open addresses in Navigon MobileNavigator using Google and Bing maps.) For those who don't care so much about having a polished desktop app, complete SMS support, or the ability to work with local images, PasteFire functions just fine and is a perfectly suitable—and free—solution.
[Brian Beam is a Drupal web developer and partner with BOLD Internet Solutions, living somewhere near Kansas City.]