The iPad 2 is finally here, in all its greatness and glory! That, however, is not the only reason for celebrating—many a vendor has also announced that it's in the process of creating and producing protective accessories specifically for the newest magical device. In the best Scandinavian tradition of buffet eating, tuck in and help yourself at this veritable feast of fashionable protection covers. It's all in this week's iPad case roundup.
Beiza Cases: Straight from Europe, Beiza brings us the Wave (iPad 2), a luxurious sleeve series that takes its name from its unique wavy design. Made entirely of genuine leather and soft canvas, and available in sixteen different configurations, the Wave usually retails for €140, but is on sale for €105 for a limited time.
Blackbox Case: This company's iPad 2 Case ($99) is handmade in Colorado from solid oak, combining tough protection with a killer old-world look.
CleverWraps: When a case is a beautiful (and expensive) work of art, it becomes unsuitable for some uses. It's one thing to take your leather accessory to work, and quite another to take it to the beach, for example, where it's unlikely to provide much in the way of protection from sand and seawater anyway. Luckily, that's where CleverWraps comes into play with its line of disposable iPad 2 sleeves (three for $15). These waterproof, plastic wrappers keep moisture and dirt out of the way without preventing you from fully enjoying your device (although you will lose access to the iPad's ports and jacks). Best of all—or perhaps worst of all, for those of us concerned about the environment—when you're done, you simply throw them away.
Gelaskins:: This manufacturer is bringing its popular line of printed protective films ($30) to the iPad 2. Each of the several hundreds styles of skins is imprinted with a unique design and provides protection for both the back of the device and the bezel around the screen. The company even provides for download a matching custom background picture for a seamless, all-over look.
Griffin Technology: The Powerdock Dual is a clever charging dock that accommodates two devices simultaneously: an iPad or iPad 2 along with an iPhone or dock-connector iPod. As a bonus, this $60 stand includes a valet area where you can conveniently store your keys and pocket change.
Griffin's Cinema Seat 2 ($40; iPad 2) allows you to strap an iPad 2 to the headrest of a car seat for handsfree viewing. It also features a webbed pocked for accessories and cables and openings for each of the tablet's controls and connectors.
Finally, the Elan Folio Slim ($40; iPad 2) can be used both as a case and as a stand. It comes in black and features openings in all the right places to ensure that you maintain access to the iPad 2's various controls.
Gumdrop: I don't know if it's on purpose, but judging from the amount of engineering that has gone into its design and construction, the Drop Series ($60; iPad 2) may be very aptly named, because it looks like it could protect your iPad from anything short of the Apocalypse. Luckily, safety doesn't come at the cost of style, and the case is available in black/red, black/black, pink/white, or white/black.
The more traditional-looking Surf Convertible ($45; iPad 2) features an animal-friendly, faux-leather exterior and combines the protection of a cover with the convenience of a stand. It comes in black, blue, or red.
iSkin: The iPad accessories in the company's Q.West collection, which combines protection with style in a number of rather unique sleeve and bag designs, are now compatible with the iPad 2.
The Sling ($125) is a handy bag that, in addition to being waterproof, can accommodate a variety of devices, including the MacBook Air. It comes in black, blue, green, violet, or red, and features plenty of extra space for accessories.
If protection is your thing, you may want to check out the Summit, which is probably what the landing airbag of the Mars Pathfinder would look like if Jean-Paul Gautier had designed it. It's shiny; it's puffy; it comes in black, red, teal, green, purple, or white; and it costs $95.
Speaking of fluffy, the 3 Degree ($80) is not quite as shiny as the Summit, but packs plenty of padding to keep your iPad 2 safe and sound. It comes in black, teal, red, purple, or green.
The Ballistic, as its name subtly implies, is made entirely out of ballistic nylon for tough and durable protection. It also features a small external pocket—ideal for a sync cable—and comes in black or gray for $90.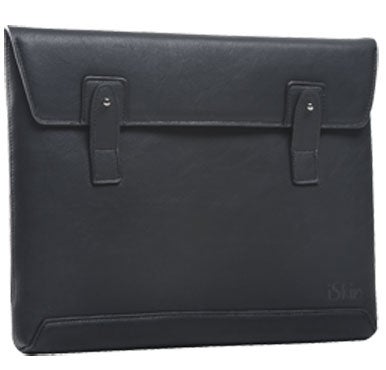 For a stylish and thin look, the Monty ($50) features leather construction, a microfiber interior, and two straps for easy closure to keep everything safely in place. Available in black, it's not as flashy as its companions, making it ideal for a business-oriented setting (unless you're Lady Gaga).
Finally, the Memo is a sleek leather sleeve that uses a strong elastic band to hold its closure in place. Its minimalistic but luxurious looks—available in black, blue, ping, gray, or white—will set you back a cool $110.
iStyle: Like Gelaskins, iStyles sells vinyl skins in a great variety of styles and designs; the company also makes available matching wallpapers for each design. iStyle's skins cost $20, with an optional matte/satin coating available for an extra $5. Versions of the coverings are now available with the iPad and iPad 2.
Macally: In addition to an unpronounceable name, Macally's Bookstand2BL Microfiber Cover & Stand ($30; iPad 2) features all-around protection and a Smart Cover-like flip design that makes it work both as a stand and a typing platform. The blue/orange color makes for a warm, welcoming contrast, and the price is reasonable.
Marware: The Microshell ($40; iPad 2) is made of thin but sturdy rubberized plastic. It preserves the aesthetic lines of the iPad 2 without skimping on protection, and it can be used in combination with a Smart Cover.
Orbino: The hand-stitched Padova Due ($209 to $689) looks exactly like what one would expect from the union of luxury and convenience. It comes in a variety of Italian leathers and exotic materials such as crocodile or ostrich skin, and it features a removable metal stand and flipcover that allow the Due to work as a stand in either landscape or portrait orientation, or as a typing platform. The company is currently taking pre-orders, with delivery expected in five to seven weeks.
Skinit: As yet another "skin" alternative, Skinit now offers completely customizable vinyl-film coverings for the iPad 2. You can choose from a wide variety of professional designs, or even upload an image to create your own. The skins are priced starting at $30, with an optional screen protector currently available on sale for $12 (regular $26).

Speck: Let's start with my favorite from Speck: the iGuy Standing Cover ($40; iPad & iPad 2). Speck markets it as "the funnest iPad cover available," hinting that it's designed to be child-friendly; I suspect, however, that many an adult will find it terminally adorable.
Getting back to more traditional products, the PixelSkin HD Wrap ($50; iPad 2) is a wraparound hardshell case with a front cover that looks—and functions—much like Apple's own Smart Cover. The cover can be folded back to be used as a stand or as a typing platform, and the case provides complete protection to both the front and back of the device.
The PixelSleeve ($30; iPad & iPad 2) is a stretchy, neoprene sleeve with a soft interior. The sleeve is lightweight but impact resistant; comes in black, purple, or pink; and features a convenient handle for easy carrying.
The PortPack 10 and the CorePack 10 ($50 each; iPad & iPad 2) are convenient carrying bags that fit any device up to 10 inches in size. They offer a number of extra compartments and plenty of padding.
Speaking of bags, Speck also offers the A-Line ($60; iPad & iPad 2), which is available in black/gray, gray/purple, or brown/red. Its stylish construction features lots of space, plenty of padding, and fits both iPad models as well as other devices up to ten inches in size.
USBFever: The Soft-Silicone Case costs just $10 and offers snap-on protection for your iPad 2. It comes in smoky black, blue, crystal clear, purple, or frost white.
USBFever's Crystal Case, which will also set you back $10, is a hardshell, snap-on case that provides protection without adding too much bulk. It comes in smoky black, crystal clear, blue, or rose red.
USBFever also offers a range of screen protectors for the iPad 2, including the Anti Glare Protector ($13) and the Ultra Clear Protector ($14).
Waterfield Designs: Waterfield is introducing seven—count them, seven—cases, starting with the iPad Wallet ($79; iPad & iPad 2). Available in six different colors (green, red, brown, teal, gray, or black), the iPad Wallet is a travel case for your iPad that features a separate pocket for a Bluetooth keyboard as well as room for a few other accessories. Its iPad pocket has enough room to accommodate a Smart Cover.
The Smart Case ($59; iPad & iPad 2) comes in the same choice of colors and also provides an extra pocket for a keyboard, but it cuts down on the storage space in the name of compactness. (Though it still offers several layers of padding and a scratch-free liner.) The lack of any visible stitching keeps the case looking smooth and sleek.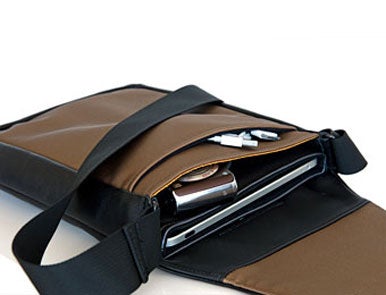 The Ultimate SleeveCase ($55 to $60; iPad & iPad 2) features a thin design that doesn't compromise the safety of your iPad. It's available in lead indium or brown leather and can be fitted with an optional shoulder strap ($5–$22) and pouch ($25–$27).
The iPad Slip Case ($29; iPad & iPad 2) features a simple but elegant construction and a minimalist look. It comes in black, blue, green, brown, or pink and can accommodate a Smart Case.
For an even more minimalistic look, you may want to check out the iPad Suede Jacket ($19–$25; iPad & iPad 2), which is as simple as simple can get—and thin to boot. Its stretch-memory construction ensures a snug fit every time, and the optional pocket gives you some extra space for cables and keyboards.
Finally, the Muzetto is an all-purpose shoulder bag that comes in a variety of sizes, including one that fits both the original iPad and iPad 2 for $199. The Muzetto's construction is all leather with one of six accent colors; in addition to a comfortable fit for your device, this bag includes a generous number of pockets and extra compartments for everything from documents to extra accessories.
Wrapsol: The Wrapsol Ultra screen-protection film is now offered in a version for the iPad 2. It comes in both dry- or wet-application versions and in front-only or front-and-back film combinations (but, curiously, not in the back-only configuration that would be ideal for an iPad with a Smart Cover). Prices start at $30.
X-Gear: The 360 Shield (price unavailable) is a polycarbonate cover that features a unique design to both protect the iPad 2 from damage and act as a stand and a typing platform. The product, available either in white or black, will be available for preorder at the end of March.
iPad (1st generation) Family