Now that iOS 4.3 is making its way to iPhone, iPad, and iPod touch users, app updates that take advantage of its new features are rolling in. FlickStackr, a feature-packed, universal iOS client for Yahoo's massive photo sharing site, is now leveraging Apple's latest mobile OS.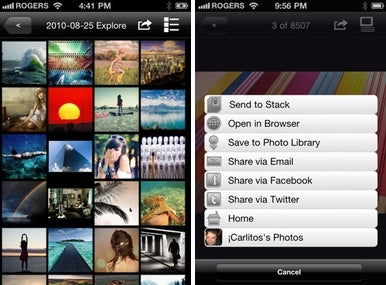 The unassuming FlickStackr 1.7.2 update has gained one major new feature: AirPlay support for Flickr videos. You should now be able to browse Flickr and send any videos you find to a second-generation Apple TV ( ) for playing on a larger screen. This new version also adds international support for French and Simplified Chinese, as well as support for the iPad 2's cameras.
These new perks are in addition to FlickStackr's already long feature list, which includes the ability to upload media with EXIF and GPS data intact, support for multiple Flickr accounts, background uploading, batch metadata editing, full-screen photo browsing, offline photo browsing, and adding photos to groups.
FlickStackr 1.7.2 is available now in the App Store for $2, though you can try out a free version called FlickStackr Explore that is limited to just browsing Flickr. You'll need iOS 3.1.3 or later to run it, but iOS 4.3 is required for AirPlay streaming.