For those who find the Apple TV or similar products too restrictive in the content they support, using a Mac mini as a home media server connected to your HDTV can be a great alternative.
If you've considered setting up a Mac mini for such purposes, then you might want to check out Newer Technology's NuShelf Mount for Apple 2010 Mac mini. The $40 acrylic hanger mounts under a desk, shelf, or cabinet and supports the current Mac mini ( ) and Mac mini with Snow Leopard Server ( ), as well as all models of Time Capsule.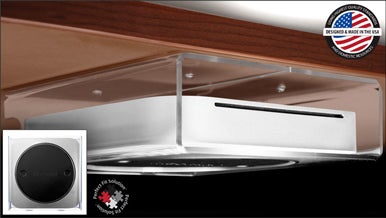 The NuShelf, which measures 8.1-by-8.1-by-2.1 inches, securely holds the mini in place without obstructing any ports or vents. It mounts using four included screws.
There's also a $45 NuShelf Dual Mount, which at 3.6 inches high, can accommodate a combination of two Mac minis and Time Capsules (one stacked atop the other).
NuShelf Mount for 2010 Apple Mac mini
NuShelf Dual Mount for 2010 Apple Mac mini