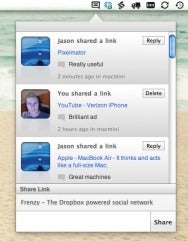 Aptonic Software has released a new social-networking utility called Frenzy that allows you to turn cloud storage service Dropbox into an impromptu social network for sharing links and files.
The program, which lives in your Mac's menu bar, allows you to share short messages, links, and files. Because it uses Dropbox, it also works offline, syncing your updates as soon as you jump back online. And since Frenzy is file-based, there's no need for server configuration.
Frenzy depends on shared Dropbox folders that you set up, meaning that you also have complete control over who else sees your files and your updates. Frenzy's also designed keep you focused on your work: users enter a special keystroke to share whatever they are looking at with their friends; once the message is sent, Frenzy jumps right back to the program that was previously being used.
Frenzy is currently in beta testing and available at Aptonic's Website and requires a Dropbox account, Mac OS 10.5 or higher, and an Intel processor. The beta version is free, though Aptonic says that applies only for a limited time; the final release will be a paid app.