Admit it: you've always wanted to create one of those " take a picture of myself every day" videos, but found the actual workflow of taking a picture of yourself every day to be on the tedious side (never mind the work of actually organizing all those photos together into a video). But if you carry a camera-enabled iOS device, Everyday might be able to help you jump on the cool-yet-narcissistic bandwagon.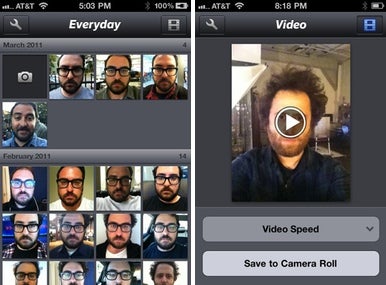 Everyday is a clever camera app with a couple of key tools and a streamlined interface. It makes it easy to snap a shot of yourself using tools like a visual grid (for devices with a front-facing camera) and an overlay of a previous shot to make sure you line up your face properly. If you're the forgetful type, Everyday lets you set a reminder so you don't miss your daily duties.
You can share each photo on your choice of Twitter, Facebook, Tumblr, and Flickr. But to fulfill the app's real potential, wait until you have a few shots saved up and then use Everyday's simple video tool to put them all together. You can control the pace of the video and share it online, too.
Everyday is available now for $2 in the App Store. It requires a camera-enabled iPhone or iPod touch running iOS 4.0 or later.