Apple has filed suit against Amazon.com over the use of the term "App Store." As Bloomberg reports, Apple alleges that Amazon began luring developers to its mobile software program in the beginning of 2011 by referring to an upcoming App Store of its own. The Internet retail giant launched its Appstore for Android on Monday.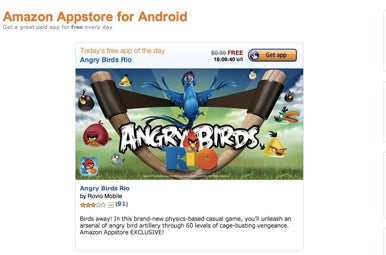 I'm not sure what the opposite of a love triangle is—a triangle of seething hatred?—but that's what this story is. Microsoft has already appealed the U.S. Patent and Trademark Office's approval of Apple's request for an "App Store" trademark. And now Apple's suit against Amazon, filed on March 18 in a California federal court, alleges that "Amazon has unlawfully used the App Store mark to solicit software developers."
According to Bloomberg, Apple's court filing says that the company contacted Amazon three times regarding the latter company's use of "App Store," and that Amazon never "provided a substantive response."
Apple spokeswoman Kristin Huguet told Bloomberg that Apple's fear is that by using the "App Store" name, Amazon's offering will "confuse and mislead customers."
The Apple-Amazon tiff comes at a time when Apple's iOS platform is going head-to-head with Google's Android mobile operating system in both the smartphone and tablet markets. Apple enjoys the advantage of size with its App Store—the store offers 350,000 apps at last count—which has helped the company sell more than 100 million iPhones in the last three-and-a-half years. Android, however, is now the best-selling operating system for smartphones, according to assorted market research reports.