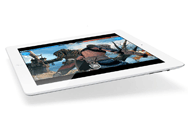 Many of those international customers looking to get their hands on an iPad 2 won't have much longer to wait: Apple confirmed on Tuesday that it will launch the newest revision of its tablet in 25 countries on March 25. That announcement seems to fly in the face of rumors of a constrained supply.
The countries receiving the iPad 2 on Friday were initially announced by Apple CEO Steve Jobs at the iPad 2 launch event earlier this month. They include Australia, Austria, Belgium, Canada, Czech Republic, Denmark, Finland, France, Germany, Greece, Hungary, Iceland, Ireland, Italy, Luxembourg, Mexico, Netherlands, New Zealand, Norway, Poland, Portugal, Spain, Sweden, Switzerland and the UK.
The iPad 2 will go on sale online at 1 a.m. local time on March 25 and at Apple Stores and authorized resllers at 5 p.m. local time the same day. The devices will bear the same suggested retail prices as their U.S. counterparts, in the respective currencies of those countries: $499, $599, and $699 for the 16GB, 32GB, and 64GB Wi-Fi models respectively, and $629, $729, and $829 for the 16GB, 32GB, and 64GB Wi-Fi + 3G models.
One country absent from the international iPad 2 launch, though, is Japan. Though Japan had been included on the initial list of nations due to get the iPad 2 on March 25, Apple said last week that it would be delaying the launch of the iPad 2 there, due to the natural disasters that have impacted the country in recent weeks.
The iPad 2 launched to great success in the U.S. on March 11, with many retail locations selling out of their supply almost immediately. Even several days after the launch, most Apple Stores held little or no stock, and online shipping times still remain in the range of 4 to 5 weeks as of this writing. One rumor earlier this week suggested that the international launch would be delayed due to short supply, but that, at least, appears to be untrue.
Apple's announcement also said that the iPad 2 will go on sale in Hong Kong, Korea, Singapore, and additional countries beginning in April, with more international availability and pricing announced in the coming months.