Editor's Note: This story is excerpted from Computerworld. For more Mac coverage, visit Computerworld's Macintosh Knowledge Center.
Samsung expanded its Galaxy Tab tablet line-up with a new device that has an 8.9-inch screen.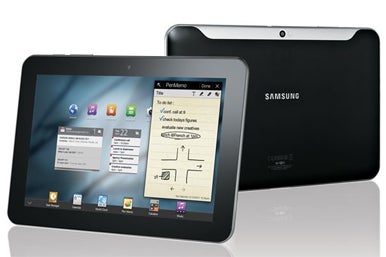 During the unveiling at the International CTIA conference in Orlando, executives noted that the company is working to offer tablet devices of all sizes.
The new offering will ship early this summer in Wi-Fi-only. It's priced at $469 for the 16GB version and $569 for the 32GB version.
The company also said it has improved the display and social networking capabilities on the 10.1-inch Galaxy Tab that was announced at Mobile WorldCongress in February. Samsung announced today that the 10.1-inch device will to ship on June 8 in Wi-Fi-only. A 16GB version will sell for $499, while the 32GB device will go for $599.
A 7-inch Galaxy Tab device was introduced last fall.
Samsung said all of the Galaxy Tab versions will offer features aimed at helping IT shops support workers using the device for business tasks.
For instance, the devices include pre-installed Sybase Afaria mobile management software and encryption for internal and external memory, along with a Cisco SSL VPN and Quick Office, Samsung said.
Both the 8.9-inch and 10.1-inch Galaxy Tabs will be the thinnest on the market at 8.6 mm and include batteries that run for 10 hours, officials said. The devices run dual core processors and Android 3.0.
"At Samsung we don't believe in a one-size-fits-all strategy," Omar Khan, senior vice president of products and and technology.
Ovum analyst Tony Cripps said the new 8.9 version "trumps the iPad 2" in slimness and weight. But he added that the Tab 8.9 has "weaker content and application potential."
Note: When you purchase something after clicking links in our articles, we may earn a small commission. Read our affiliate link policy for more details.