Despite the boom in megapixel counts in smartphone cameras, taking pictures with a cell phone still doesn't feel the same as taking photos with an actual camera. For those who miss the look of a camera dangling around their neck but prefer the convenience of always having a smartphone camera on-hand, there's a new prototype iPhone case from UN Design that imitates the look of a real camera. It does not, however, give your phone's camera any new abilities, like the Clarifi Case ($35) or the OWLE case ($130).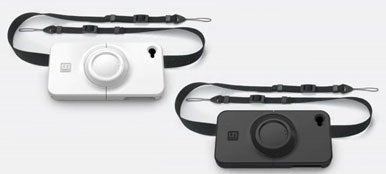 The UN01 case is designed to make an iPhone 4 look like a run-of-the-mill camera. On the more functional side, it includes an adjustable strap that allows it to hang around your neck so that you're ready to snap photos at a moment's notice. Currently, UN Design is taking donations to start production on the new case at Kickstarter.com. (Another iPhone camera accessory to get its start on Kickstarter was the very popular Glif stand by Studio Neat.)
Made of plastic, the UNO1 case is actually three pieces that you must assemble. Two square sides slide together over the back of your iPhone 4 leaving the touchscreen expsosed, and a plastic tightening ring locks the pieces together in the middle. It is this tightening ring that gives the case its convincing camera-like appearance, however it has has no practical function other than holding the case together. The UNO1 has openings for the iPhone's volume buttons, lens, and power socket, and the company hopes to offer it in a variety of colors.
UN Design's Kickstarter.com pledge goal is $23,000. Currently, the company has received nearly $1,500 in donations, with 29 days left to go.