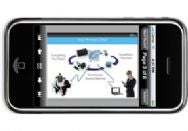 Soonr, the mobile office app that turns your iPhone into a digital desktop away from your physical desktop, can also keep you just as busy on your iPad. The latest update adds support for the iPad along with a few new features for the app.
The app, which lets you view and access files on your Soonr.com account, now comes with a new advanced search option that allows users to search for files by file type, modification date, or location. It also adds a video conversion features that allows videos that aren't natively compatible with the iPhone and iPad.
The app, which requires any device running iOS 3.1 or later, is free to download and requires a Soonr.com account that can be purchased at a monthly rate at Soonr's official Website.