If one or two speakers just isn't doing it for your car's Bluetooth speakerphone, then hold onto your steering wheel: Jabra has announced the Freeway, a model that boasts an industry-first three speakers.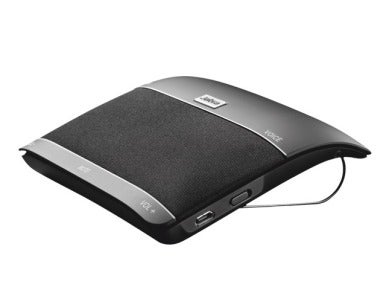 Designed to be clipped to your car's visor, the Freeway boasts HD Voice Ready technology that helps ensure the best voice quality on both ends of the connection. The Freeway also features Virtual Surround Sound and full support for the Bluetooth A2DP wireless audio standard, so you can pipe through your music or other audio if you prefer. And it'll even automatically power up when you get in the car and shut off when your conversation is over or you finish your trip, all in the name of saving battery life.
Voice commands are a big part of the Freeway; after all, you don't want to have to fiddle about with buttons and switches while you're driving. In addition to the built-in Voice Guidance, which will talk you through the pairing process as well as keep you updated on the device's battery level and connection status, and Caller ID, which will audibly alert you to who's calling, the Freeway also comes with a free one-year subscription to the Voice Assist app. Voice Assist, which is compatible with iOS devices as well as BlackBerry and Android phones, lets you make calls, send and answer e-mails and text messages, and even post to Twitter and Facebook, all with just your voice.
While the Jabra Freeway is already shipping in Europe and Asia, it will arrive in the U.S. in May for a suggested retail price of $129. It's sure to be the latest and greatest option until somebody starts shipping an in-car speakerphone with four speakers.