At a Glance
Expert's Rating
Our Verdict
Iomega's SuperHero Backup and Charger for iPhone is a charging dock for the iPhone and iPod touch that can also back up your device's contacts and photos to an SD memory card. The $70 device makes a nice charger and does a good job of restoring information, but you'll need patience to deal with the incredibly slow backup speed.
The dock itself is small, measuring 3.5 inches on each side and less than an inch tall. The silver surface looks sleek and modern, but a large, unsightly graphic on top of the SuperHero reminds you to unlock your phone before placing it in the cradle—fortunately, the graphic is blocked from view when an iPhone is docked. Unlike many dock cradles, the SuperHere does not provide a USB port for connecting to and syncing with your computer.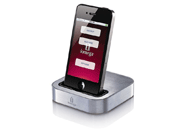 On the back of the SuperHero is an SD-card slot. A 4GB SD card is included; if you need more storage space, you can use your own higher-capacity SD card. Since you can use the SuperHero to back up data from multiple iPhones and iPod touch models, there's a good chance you'll eventually want more capacity.
Setting up the SuperHero is relatively simple, though not as straightforward as connecting your iPhone to your computer and using iTunes for automatic backup. Before you use the SuperHero, you must download the free Iomega SuperHero Backup app for your iPhone or iPod touch. Assuming you followed the advice of the aforementioned graphic and unlocked your device, the app launches automatically whenever you place your phone or iPod touch in the dock cradle; after a 30-second countdown, the SuperHero starts to back up your contacts and photos. The software includes an option to encrypt the backup of your contacts.
While setup is pretty painless, the actual backup process wasn't nearly as smooth as we had hoped. In our initial test, the backup started well, flying quickly through 216 contacts. But when it came time to back up photos, an hour passed before it had even reached the halfway point of a fairly small collection of 169 photos. (the entire process wasn't timed, as the backup was regularly interrupted by incoming text messages, phone calls, and other standard phone activity. Thankfully, if a backup gets interrupted, the SuperHero picks up where it left off the next time the app is launched.)
A backup with a smaller sample of photos—just nine—took nearly 15 minutes (including copying the same 216 contacts). By comparison, it took a little over a minute to perform a standard iTunes sync with the same phone, and only 10 seconds to import the same nine photos into iPhoto.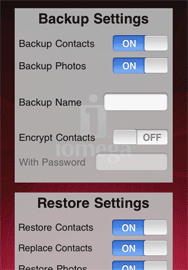 Luckily, although the SuperHero Backup app backs up all of your contacts each and every sync, it copies only new photos you've taken since the previous backup. This helps cut down on backup times, but the process is still slow. When we ran a backup with just one new photo, it still took 90 seconds.
You can avoid the inconvenience of these slow backups by docking your iPhone or iPod touch at night before you go to bed—a time when you'd likely be charging the device anyways—but you could just as easily connect your phone or iPod touch to your Mac. The SuperHero is probably better suited as a secondary docking device. For example, you could use it at work, where you might not want to sync your iPhone with your work computer but you'd still like to charge your phone. And unlike a simple charger, the SuperHero provides an off-site (away-from-home) backup of your contacts.
The tech specs page for the SuperHero states the that device is for, "users who do not connect and sync to iTunes, but instead charge the phone using the wall plug and, as a result, never have redundant copies of your contacts and Camera Roll photos." So the SuperHero's functionality is pretty limited. It doesn't back up calendars, application data, or any of the other stuff that's automatically backed up when you sync with iTunes, and it doesn't even give you the option to copy music, videos, or other media. When it comes to photos, the SuperHero backs up only photos taken with the iPhone or iPod touch—it doesn't back up photos imported from your computer. (The idea here, I'm sure, is that those photos are already on your computer. But it would still be nice to have the option to back them up on the SuperHero.)
If you need to restore your backed-up data due to a lost or wiped phone, launching the Iomega SuperHero Backup app and pressing the Restore key while the device is docked will bring back all contacts and pictures. A Restore copies over the existing contacts, even if the phone already has a existing list of contacts. The SuperHero Backup app also offers a Replace option, which just updates your contacts with any changes. There's no real way to selectively restore contacts, except via Replace.
Using the SuperHero as a way to import photos from a Mac to the iPhone isn't a documented feature, but there is a way to make it work. You can mount the SuperHero's SD card to your Mac, and it'll appear on the desktop just like any other storage device. If you do so and open the SD card, you'll see that photos are simply saved to the top directory of the SD card; they aren't placed in a special folder, or saved in a special file format. (In a pinch, you can mount an SD card on your Mac to retrieve your photos in the SuperHero backup.) You can save photos to the SD card, and when you perform a Restore through the Iomega SuperHero Backup app, those new photos are "imported" to your iPhone's Camera Roll. This is also handy if you rather your imported photos appear in your Camera Roll instead of an iPhoto-created album.
Macworld's buying advice
As a charger, the SuperHero is attractive, compact, and displays your iPhone or iPod touch nicely. And though it does what it says it can do—backup your iPhone-shot photos and contacts—the impression is that the SuperHere is mere mortal. It doesn't back up all of your phone's data completely, it takes ages to back up those files it does copy, and overall it feels like an accessory with a lot of unfulfilled potential. If all you need is a device that can perform a secondary backup of your contacts and photos, then the SuperHero works fine.