Editor's Note: The following article is excerpted from PC Advisor.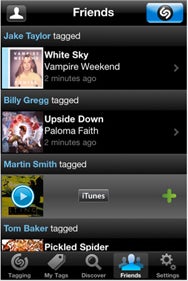 Music recognition service Shazam has updated its app for iPhones to allow users to share new music with their friends on Facebook.
Shazam is an app that allows users to hold their mobile device up to music playing. Once Shazam has identified the song, the track name and artist information—known as a "tag"—is sent straight to the user's phone. In some case, the album artwork is included as well.
Once users have downloaded the free update, a Friends tab will appear in the software. Once a mobile phone owner gives the app permission to access their social networking profile, they can share tracks they have recently tagged with their friends, as well browse their friend's recently tagged trackls and even, where available, use a streaming service to listen to these tracks.
The Shazam Friends update is immediately available to all users onthe iPhone and iPod touch. (The iPad version was last updated in November.) Shazam Friends for Android users will be rolledout in the coming weeks.