In the recording studio, producers and engineers listen to their mixes through many different types of speakers, hoping to find a happy place where the music sounds the best it can, in as many listening situations as possible. For many home studios (like mine, for instance) space and budgetary limitations can make this difficult.
Folks wanting to mix on the road, or after the kids go to bed, face even greater challenges and generally rely solely on their headphones. Many headphones, however are designed to deliver pleasing sound—not necessarily accurate sound. When looking for a set of reference monitors, either headphone or powered speakers, you really want something offering a wide, natural frequency response to help expose—not cover up—the true sound of your recordings.
At Macworld Expo this year I ran into some interesting and affordable equipment designed to help with these tasks and I've finally had the chance to check them out.
KRK Systems, makers of powered studio monitors ranging from $300 to $5000 a pair, now offer headphones designed to provide a similar natural frequency response to their studio monitors. The $150 KRK KNS-8400 monitoring headphones feature memory foam earcups, making them comfortable for long sessions while offering up to 30dB of noise isolation. The headphones come with a removable 8.2-foot cable with an 1/8-inch miniplug. A 1/4-inch screw-on adapter is also included, as is a 29-inch extension cable with inline volume controls.
Listening to my mixes on these headphones was a real ear-opening experience. I soon realized that the headphones I was using were heavy on the low end and a little overdriven. And while I could mix songs to sound good on these headphones, I was often dissatisfied when I listened to the songs in other locations. With the KRKs I was able to hear more of the high end without the bass turning to mush.
But even if you have a great set of monitoring headphones, you're still stuck with a single reference point. With its new VRM Box, Focusrite aims to help both mobile mixers and home recorders on a budget hear their music on 10 different virtual reference monitors (VRM)—ranging from low-end desktop computer speakers to flat screen TV speakers to incredibly expensive monitors used in high-end studios around the world—all from their laptop. Using the included software, you can also choose from three environments to listen in—living room, bedroom, and professional studio.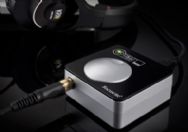 The VRM Box is a small silver and black device measuring about 2.7 inches wide and deep and 1 inch tall. It connects to your Mac and is powered by USB 2.0. You can also connect it to the audio interface using its S/PDIF port. It has a ¼-inch TRS connector for headphones on the front and a circular volume knob. Focusrite recommends a pair of high quality headphones like the aforementioned KRKs. If your headphones have bass boosting controls, be sure to turn them off.
Once you share your songs with the world, you have no control over where, and on what kind of system, your listeners will hear them. They may listen to them on the small built-in speaker of a Mac Pro, a car stereo, an iPod, or an expensive home stereo system. This lack of control is exactly is why the VRM Box is so helpful.
To be able to hear your music in so many different environments without getting up from your chair may not offer any more control over where you music gets heard, but it can certainly help you prepare your mixes for a wide variety of listening scenarios. And for $100, it's hard to beat the price and the convenience.
These two new products offer some quick and easy ways to hear your compositions from the audience perspective, and provide musicians at home or on the road more opportunities to improve their sound.