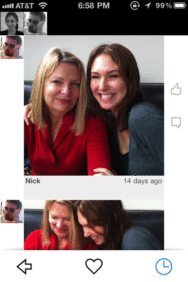 A new photo-sharing app is attempting to redefine the "social networking" experience, moving away from far-flung communities that you choose to other smartphone users whom who may or may not know—but who are probably standing just a few feet away.
Color, the new app from Color Labs promises to let you create and share photos and video albums with other people who have iPhone or Android phones—equipped with the app, obviously—within 150 feet of your own. (There are no privacy settings in the app, so you'll be sharing with every other Color user in proximity.) The app is being pitched for use at parties, play dates, and other social events.
Links to the albums can be shared via Twitter, Facebook, e-mail, or SMS—though recipients of links to those albums won't be able to modify or participate in the photo conversation from their browser. Aside from that, Color Labs is offering little description of the app, apparently banking on users to figure out how to use it through trial and error.
Wednesday's launch comes amid great hubub about Color's funding and development pedigree. The developers—who include Lala founder Bill Nguyen, former BillShrink CEO Peter Pham, and former LinkedIn chief scientist DJ Patil—have a reported $41 million in backing to get the app off the ground, and may have paid as much as $350,000 for the Color.com domain name alone.
That's a substantial investment in the product's future, no doubt banking upon the success of other social-networking platforms. However, the social media field has proved to be a tough to crack, with users often fickle about the networks that they embrace, and Color faces some tough competitors, including the popular photo-based social network Instagram.
Color is free and compatible with devices running iOS 4.0 or later.