This week's case roundup features a number of cases offering extra functionality along with basic protection. From SigFx's life-extending battery case to USBFever's 2X zoom lens and waterproof bicycle mount, these iPhone cases add functionality to form.
SigFx
SigFX's SaFPWR battery cases protect your phone from bumps and scratches while doubling its battery life. The $80 Fusion is a simple slider-style case, while the $100 Milano is a leather folio-style model available in 12 different leather styles and colors. The battery itself features advanced energy-management technology that maximizes the battery's efficiency; the case sports a Micro USB port, and includes a USB cable, for charging and syncing of your iPhone while still in the case.
Speck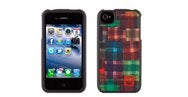 Speck has teamed up with Burton Snowboards to release a line of custom-designed hardshell cases. These new cases feature Speck's form-fit, two-piece design, along with original fabric styles from the Burton apparel collection. Patterns include two rad plaids, Lumber Lighter and Buffalo Plaid, plus the flashy and unique Headache Dot.
Also new from Speck is the CandyShell Card ($40), a case designed for those who like to travel light. The slim-fit case sports a built-in slot that can hold up to three credit or ID cards, as well as some cash.
SwitchEasy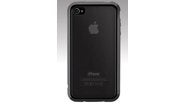 SwitchEasy's Trim ($20) sports an ultra-durable hybrid design that should keep your iPhone safe from all but the most vicious of impacts. The case is made of scratch-resistant hydro-polymer material fused with highly durable polycarbonate, and it features an easy-on/off one-piece design. For extra protection, the case comes with screen guards and protective inserts for the iPhone's headphone jack and 30-pin dock-connector port.
USBFever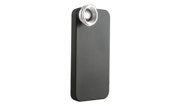 iPhone photographers might want to check out USBFever's 2X Telephoto Lens with Back Cover ($22). The detachable lens screws onto the case—really just a clip-on back cover for the iPhone—enhancing your camera's zoom by 2X. The back cover can also be used to attach a variety of additional lenses from USBFever, including an 8X telephoto lens, a macro Lens, and a fisheye lens. Note that the lens blocks your iPhone 4's flash.
Of interest to bicyclists is the company's Tunemount bicycle mount ($29), which keeps your iPhone mounted securely to your bike's handlebars inside a waterproof, zippered case—your iPhone's GPS function and your iTunes playlists will always be in reach while you're riding.
White Diamonds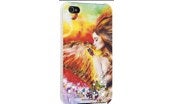 White Diamonds' cases feature intricate graphic designs with embedded Swarovski elements for extra dazzle. The cases feature designs from various artists that range from detailed black and white, to more elaborate, colorful pieces. The company's Website doesn't list prices, so if you're interested in a case, you'll have to contact White Diamonds for a quote.
XGear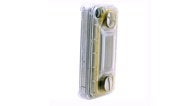 XGear's Liquid Shield ($50) is a waterproof case with a three-layer design meant to offer maximum protection. Despite its robust, waterproof construction, this polycarbonate and silicone hybrid case still provides access to all of your phone's buttons and controls, and it doesn't obstruct the front or back camera, the speaker, or the microphone.
XPAL Power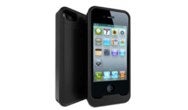 XPAL Power has launched the $50 PowerSkin, a flexible, silicone battery case for Verizon and AT&T iPhone 4 models. The lightweight, impact-resistant case features a non-slip grip and is made from 100-percent recycled material—except for the battery and internal components, of course. The battery extends iPhone talk times up to eight hours, and the case includes a built-in Micro USB recharging port, an on/off button, and an LED battery-status indicator.