Sometimes it feels like this is Angry Birds' world, and the rest of us are just living in it.
The physics puzzle game is the 800-pound gorilla of the App Store. Whether in its original, iPad, or assorted spinoff formats, Angry Birds dominates the sales charts of Apple's mobile app outlet. You can buy Angry Birds plush toys. A movie may be in the works. For all I know, Steve Jobs is going to invite one of the birds—the chubby, particularly irritated-looking red one, I'd guess—to join Apple's board of directors.
For now, though, Angry Birds and developer Rovio Mobile are content to lend their considerable rub to promote someone else's movie. In conjunction with next month's release of the animated motion picture Rio, Rovio has rolled out a new version of its popular game—Angry Birds Rio for the iPhone and iPod touch and Angry Birds Rio HD for the iPad.
The movie tie-in necessitates some changes to the usual Angry Birds storyline, in which the foul-attitude fowls do battle with an army of snickering green pigs. Instead of using your battalion of birds to crush the pigs and their assorted fortifications, you're on a mission of mercy in Angry Birds Rio—you're smashing through cages to free the exotic bird heroes that star in Rio.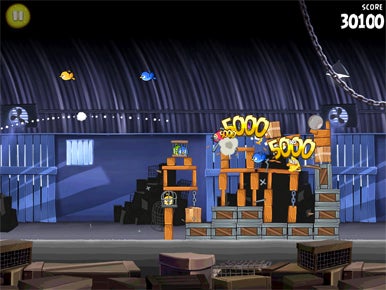 Otherwise, gameplay in Angry Birds Rio will be familiar to anyone who's played any other game in the franchise. Your birds have different powers—some explode, some feature speed bursts, some split into three, and so on—which can come in handy when solving Angry Birds Rio's various puzzles. The cages confining your feathered friends are surrounded by various structures made out of wood, glass, and metal—some of which are easier to break through than others. You rack up points for freeing the birds while reducing those structures to rubble. Each stage you successfully clear earns a rating of one to three stars depending on how much damage you're able to inflict and how many birds it takes to do it.
As I write this, Angry Birds Rio features two episodes, containing a total of 60 levels. Four more episodes are planned throughout 2011 via updates to the app.
Angry Birds fanatics will probably enjoy this latest installment, and there's certainly plenty here to like, from the new puzzles to the jaunty tropical soundtrack. That said, I think the game loses something by not having the green pigs there to menace the birds—there's something about the way they giggle and smile when I fail to clear a level in other Angry Birds iterations that makes them seem like more worthwhile antagonists than unseen bird poachers. Also, the Smugglers' Den episode in Angry Birds Rio feels a lot easier to solve than other Angry Birds puzzles, though things may get tougher the deeper I progress into the game.
For my money, if there's one version of Angry Birds that captures everything worthwhile about the franchise, it's Angry Birds Seasons HD. This iPad-optimized offering makes great use of the tablet's screen. An update earlier this month added St. Patrick's Day-themed puzzles to a game that already includes Halloween, Christmas, and Valentine's Day episodes. And there's an attention to detail—snowflakes fall in the Christmas puzzles, a catchy Irish jig plays in the background for the St. Patrick's Day levels—that really gives iPad gamers their money's worth.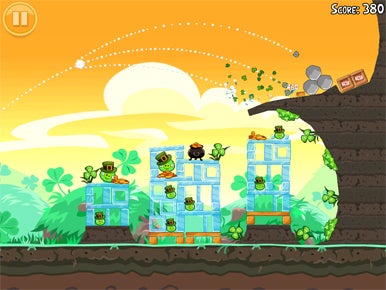 Angry Birds Rio in its iPhone and iPad forms is a worthy addition to the series. But Angry Birds Seasons HD remains the pinnacle of Rovio's offerings.
[Macworld.com executive editor Philip Michaels wants those green pigs to know that this isn't over—not by a long shot.]