At a Glance
Expert's Rating
Pros
Powerful page creation tools
Easy CSS editing
Room to grow beyond HTML Website creation
Cons
Manual isn't comprehensive
Undo function for some important features is nonexistent or needlessly cumbersome
Our Verdict
Macware's MacFlux 3.1.4 simplifies creating rich HTML5 and XHTML Websites without sacrificing powerful features. With its WYSIWYG layout tools and powerful CSS (Cascading Style Sheets) editing, even novices can learn to build and revise complex sites quickly. But beginners may be tripped up by the program's occasional quirks and spotty documentation.
Split the workload
Most time in MacFlux is divided between two main windows, the Site Manager and Page Editor. The Site Manager lets you create new projects, add HTML or CSS files to them, and publish sites to MobileMe, a local folder, or an S/FTP folder. You can drag pictures, movies, and other assets in from the Finder. If you've already created a Website in another application, you can export it to a folder and import it into MacFlux. Of course, you can also build new sites from scratch, or use one of 19 templates as a starting point. However, templates consist of only a few pages, and you can't easily switch among them if you change your mind. In addition to standard Websites, MacFlux can create Ruby on Rails, Concrete5, or ePub projects; as well as WordPress themes.
Web pages are built in the Page Editor. One toolbar lets you add elements, from empty div-tag containers to placeholders pre-formatted for forms, videos, images, and other media and interactive elements. These can be resized and repositioned by clicking and dragging, and you can directly edit a pages' HTML in a resizable pane. A second toolbar toggles elements' handles and other visual cues, letting you see just the information you need when you need it. Six optional layouts populate pages with blank header, footer, and body elements for you to fill, each with preset CSS styles. These and all styles associated with your site (as well as a text list of page elements) are shown in a sidebar, where you can add new styles and select them for editing in the Inspector.
Say it with style
The Inspector palette lets you precisely set element attributes like position, color, size, and even WebKit reflection and rotation effects. It's a lot of power in a straightforward, easy-to-use interface. Color-coded icons show which style you're editing (and whether it's inline or external) so you can always see what you're editing at a glance, even in busy pages. However, edits made here can't be undone with a simple Command-Z without first switching back to the Page Editor window—if they can be undone at all. This limitation is relieved somewhat by a History feature that saves snapshots of pages you can return to later, but it still feels like a frustrating oversight.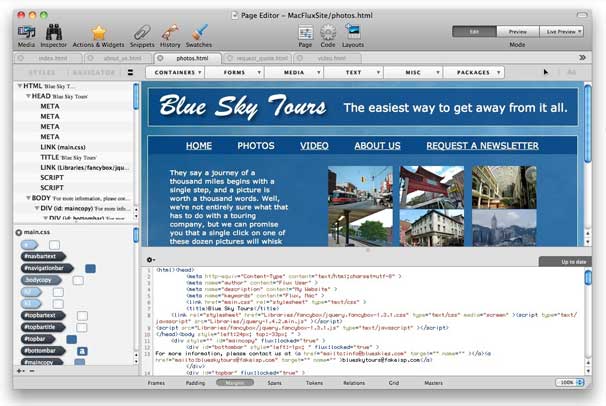 For a different kind of style, MacFlux's library of HTML, JavaScript, and CSS widgets lets you add flashy buttons, dynamic photo galleries, and other stylish touches with a click. As you customize them for your site, you can easily preview pages in any browser on your Mac, or in MacFlux's preview mode. A handy Live Preview feature quickly uploads changed pages to your server when you absolutely have to see your work live. MacFlux also supports @font-face code and integration of fonts from the Google Font Directory, allowing use of Google's Web fonts for greater cross-browser compatibility and design freedom.
Expect to study
MacFlux offers plenty of features and flexibility, but its documentation doesn't do them justice. As an overview of application features and CSS and HTML basics, it's enough to get you started (a tutorial project is also included), but not nearly comprehensive enough. Users who don't mind exploring online to fill in the gaps may not mind, but novices will be at sea without a CSS/HTML reference and patience.
Macworld's buying advice
Designers looking to build quick template-based sites may be better served by RapidWeaver. But if you're looking for a powerful, affordable way to create more sophisticated sites, MacFlux 3 is well worth considering. Note that MacFlux 3 is sold by Macware for $100. The same application is sold for $120 on Apple's Mac App Store under the name Flux 3 by The Escapers Consultancy.
[Adam Berenstain is a freelance writer based in upstate New York.]