If you've already got your new iPad in hand, you're probably looking for new ways to look at it, listen to it, or keep it powered up. Here's this week's look at the latest products for making your new tablet all it can be. (If you're looking for the latest in iPad 2 cases, check out our case roundups; we'll have another case roundup tomorrow.)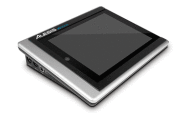 Alesis: This audio equipment company has announced the new iO Dock, which Alesis says allows owners of the original iPad and iPad 2 "to create, produce, and perform music with virtually any pro audio gear or instruments." The dock provides a hub to connect music-making iOS apps to microphones, instruments, and other music hardware. No information on pricing or availability is yet available.
Breffo: UK company Breffo is pitching the SpiderpodiumTablet, a grippable and posable eight-legged stand that allows hands-free viewing of the iPad 2, or any other tablet, at any angle. The device can be shaped into several configurations for various purposes, including desktop display or in-flight or -car video viewing. The $35 accessory is available now.
Bweasel: This manufacturer already makes a $30 wire-frame stand for the original iPad, ajustable for viewing at multiple angles, with or without an external keyboard. The company has announced that a Bweasel stand specifically designed for the iPad 2 is in development and will be available soon, presumably for the same price as the original.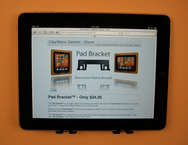 ClayWare Games: The New York-based ClayWare Games—which makes more than just software—is aiming its $25 Pad Bracket at iPad 2 users who want to mount their tablet to a wall. The company says its bracket is perfect for hands-free FaceTime conversations using the iPad 2's front-facing camera, or for trade show displays. The bracket itself—which lets you display the iPad in landscape or portrait orientation—is available in black, white, or clear. The Pad Bracket is available now.
DreamGear: If you need 480 hours of backup power for your tablet, DreamGear is offering the $130 i.Sound Portable Power Max, a battery that includes five USB ports for powering a range of devices. That of course includes the iPad 2, but also one or more iPhone or iPod touch models. A 100/240-volt AC adapter is included.
The Joy Factory: California's Joy Factory is offering a range of new and updated products for the iPad 2. Two notable products in the lineup are the Arpeggio KIT, a $100 Bluetooth keyboard that comes with a dual-pocket bag to carry both the keyboard and your iPad; and the $25 Prism2 Crystal, a glossy-finish screen protector. Both products will be available in April.
Soundfreaq: This audio company has confirmed that the iPad 2 is compatible with Soundfreaq's SFQ-01R Sound Platform, a Bluetooth audio dock designed for the iPad, iPad 2, iPhone, and Blackberry and Android devices. The audio system is available for $200 from Amazon.com, as well as Target stores nationwide.
USBFever.com: Accessory maker USBFever has introduced its 5-in-1 Connection Kit for iPad, a dock-connector hub that lets you connect various other electronic devices—including a TV for video playback, a keyboard for data input—and also includes SD and MicroSD card readers for data transfer. The Kit is available now and works with first- and second-generation iPads running iOS 4.1, 4.2.1, or 4.3—those versions and only those versions.
iPad (1st generation) Family