If you've used Mac OS X for any length of time, you probably feel confident that you know what you need to know about using the Finder to manage your files. But do you, really? Here's what we think any savvy Mac user should know about the Finder, search, and file-management.
Set Defaults for New Finder Windows
When you create a new Finder window, its size, position, and other attributes may not be what you want. To change the defaults for new Finder windows, create one (by pressing Command-N or choosing File -> New Finder Window) and make the adjustments you'd like—resize it, move it, change the view, or anything else; whatever other changes you make, you must resize the window (if only to return it immediately to its previous size) for this tip to work. Now, without doing anything else, close the window. From now on, each new Finder window will default to the attributes you just set.—Joe Kissell
Use Smart Folders
Smart folders provide easy access to the files you use most. To create one, choose File -> New Smart Folder in the Finder. In the search field at the top right, enter search terms that define the files you want to include in the folder. Choose a scope for the search—This Mac, say, or the folder you were in when you started—and then choose whether you want to search file contents or filenames. When you get the results, and you like what you've found, click on Save and give the folder a name. To keep it handy, select Add To Sidebar.
To create a smart folder based on an attribute other than filename or contents—file type, for example—follow the same steps, but instead of entering a search term in the search field, click on the plus-sign (+) button next to Save. You'll see a new strip at the top of the window with two drop-down menus: Kind and Any. To create a PDF smart folder, leave the first menu item set to Kind and then click on Any and choose PDF.
You can make these searches more complex: To create a folder that will collect Microsoft Word files containing a specific string of text, create a new smart folder and enter the text string in the search field. Then click the plus-sign (+) button. From the Kind menu, choose Other and then type word document in the text field that follows. To search on other file attributes, open the first drop-down menu and select Other.—Kirk McElhearn
Ten Ways to Navigate to a Folder in the Finder
In list or column view, select a folder and press the right arrow to navigate into it; then press the up and down arrows to navigate within that folder to the subfolder you want. You can then press the left arrow to go back up the folder tree, one enclosing folder at a time; if you press Command-Up Arrow, you'll leap to the top of the folder tree. If you press Shift-Tab instead of the left arrow as you travel up the folder tree, the subfolder contents will stay visible as you go. You can then press Tab to retrace your steps back down.
In icon view, press Command-Down Arrow to drill down into a selected folder; press the up, down, left, and right arrows to navigate within a folder; and press Command-Up Arrow to drill back out.
Press Command-[ (left bracket) to see previously viewed folders.
In the enclosing folder, type the first letter or two of the name of a folder you want to open.
Press Command-Shift-G (or select Go To Folder from the Finder's Go menu, or right-click on the Finder icon in the Dock and select Go To Folder), and then type the name of the folder. (Instead of typing the entire folder name, you can type the first few letters and then press Tab to autocomplete it.) Note: The folder you are looking for must be within the currently selected one.
Holding down the Command key, mouse-click on the proxy icon at the top of the Finder window to display the folders that enclose the current one; select the folder you want to go to.
Press the Back or Forward button in the Finder toolbar.
Add the folder to the Finder sidebar (by either dragging it there or selecting it and pressing Command-T), then click it.
Use Spotlight or press Command-F to search for the folder by name.
Double-click on a folder in the Path Bar at the bottom of a Finder window. (If the Path Bar isn't showing, select View Show Path Bar.)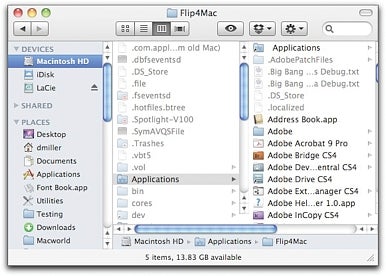 Usually, the Finder doesn't show you every file on your Mac; many files that are visible to the Unix file system underlying OS X aren't shown. If you need to see some of those hidden files, open Terminal, type defaults write com.apple.Finder AppleShowAllFiles YES, and then press Return. Now restart the Finder by opening the Apple menu, choosing Force Quit, selecting Finder, and clicking Relaunch. To revert, repeat the command, but change YES to NO.—Rob Griffiths
Use Proxy Icons
The little icon at the top of a window next to the title of a file or folder (in the Finder and in most applications) is called the proxy icon. It isn't there just for decoration; it can do a number of useful things: In the Finder, to display a pop-up menu of the folders containing the one you're currently in, hold down the Command or Control key while clicking on the proxy icon (or right-click on it). You can navigate to any of those higher-level folders by selecting them from this menu. To move a folder or file to another location, drag its proxy icon to the new location. (With document files, this works only if you've saved the file first.) If you hold down Option while you drag the proxy icon of a folder, you'll make a copy of it; if you hold Command and Option, you'll create an alias. You can also use this technique to drag an item to the Trash or to a Dock icon to open it in another application.—Joe Kissell
11 Ways to Launch an App (without Third-Party Utilities)
Navigate to the Applications folder in the Finder with your mouse, and double-click on the program.
In the Finder, press Command-Shift-A to go to the Applications folder and then use the arrow keys to navigate to the app you want; once you select it, press Command-O.
Click on the application's icon in the Dock (or drag a file onto that icon).
Create an alias of the application in the Finder, put the alias on the desktop (or wherever else you like), and then double-click it.
Drag an app from the Applications folder in the Finder up to the Finder toolbar; click the resulting icon.
Select Recent Items from the Apple menu in the Finder, and select the app from the Applications section. (Or use the Recent Items stack in your Dock.)
Double-click on a file that opens by default in the app you want (or Control-click on that file and select the app from the Open With menu).
Press Command-Spacebar to open Spotlight, type the first few letters of the app's name, select it from the resulting list, and press Return.
Add the app to your Login Items list and then restart.
Create a service in Automator with the Launch Application action (set Service Receives to No Input), and then create a keyboard shortcut to that service (in the Keyboard system preference, choose Keyboard Shortcuts).
Open Terminal and enter open -a appname , where appname is the name of the app. (Enclose the name in double-quotes if it's more than one word long.)
Take Control of Spotlight Indexing
If Spotlight can't find files you know are on your Mac, you may need to re-index your hard drive. Go to the Spotlight pane in System Preferences and click on Privacy. Click the plus-sign (+) button. Select your hard drive and click Choose. Wait a few seconds and then select your hard drive from the privacy list and click the minus-sign (–) button. This deletes your old index and forces Spotlight to create a new one. While you're on the Privacy tab, fine-tune search results by excluding folders: the Library and System folders are good candidates, as are external backup drives. Another way to get better results is to click the Search Results tab of the Spotlight preference pane and exclude any file types you don't want to find. While there, drag the categories into the order that suits you best.—Kirk McElhearn
Search Intelligently in Spotlight
Searching with Spotlight is easy; getting good search results with it is a little harder. By default, Spotlight searches for all the words you enter in the search box: A search for moby dick will turn up iTunes tracks by Moby and articles about Dick Cheney. Put quotation marks around the phrase—"moby dick"—to get hits about Melville's novel alone. To exclude words, use the - operator: moby -Melville to find Moby tracks but not your college notes about the novel, for instance.
By default, Spotlight looks for your search terms in file names, their contents, and their metadata. To limit a search to, say, filename alone, type name:"moby dick". You can also narrow searches to specific file types. Type kind:pdf "moby dick" to find a copy of Melville's novel in PDF format.—Kirk McElhearn
Spotlight Keywords
To find: Add one of these keywords after "kind:" in Spotlight query:
Applications
application; applications; app
Audio
audio
Bookmarks
bookmark; bookmarks
Contacts
contact; contacts
E-mail
email; emails; mail; mail message
Folders
folder; folders
Fonts
font; fonts
iCal events
event; events
iCal to-do items
todo; todos; to do
Images
image; images
Movies
movie; movies
Music
music
PDFs
pdf; pdfs
Preferences
system; preference; preferences
Presentations
presentation; presentations
Share Files between Macs
To share files between two Macs on the same network, open System Preferences on each Mac and choose Sharing. In the left pane, check the box next to File Sharing. That Mac should now be visible from the other: Open a new Finder window on the other Mac and look in the Shared section of the sidebar; the Mac you just shared should be there. (You can also see it by choosing Go -> Network in the Finder.) To connect with the shared Mac, click on its name in the Finder sidebar (or double-click it in the Network window). Click on the Connect As button and enter the username and password for the other computer. You'll then see several different folders on the remote machine, including the root hard drive and the home folder. Save the username and password, so you don't have to enter it again.—Jason Snell
Four More Ways to Share Files
Without a Network: Put files on a USB drive or burn them to a CD or DVD, and then hand over the drive or disc.
Via the Internet: Copy files to Dropbox or another file-storage service that has Public folders.
Via E-mail: Send the file as an attachment; for really large files, use a service like YouSendIt.
Via Google Docs: Upload the file to Google Docs, then set sharing permissions as you wish.
Securely Delete Files
If you're worried about confidential files on your Mac falling into the wrong hands, even after you've supposedly deleted them, go to the Finder and choose Finder -> Secure Empty Trash. Then click on the Secure Empty Trash button. This will take longer than usual, because the Finder will overwrite the trashed files several times with zeros. But those deleted files will not be recoverable by disk-recovery programs.—Kirk McElhearn
Securely Erase Empty Space on Your Hard Drive
Even when you securely empty your trash, traces of those supposedly deleted files may remain on your hard drive. That's because each time you saved them, they were written in different locations on your drive; when you delete them, you erase only the last instance. To sweep away every bit, open Disk Utility and select the drive or volume you want to clear out. Now open the Erase tab, click on Erase Free Space, and choose one of three options: 7-Pass Erase Of Deleted Files (which is usually best); Zero Out Deleted Files (which is good, but file-recovery programs may still be able to find some of your personal data); or 35-Pass Erase (which takes a really long time). Once you've selected an option, click Erase Free Space. If you have a large drive, this may take a long time.—Kirk McElhearn
Four Ways to Force the Trash to Empty
Sometimes, when you choose Finder -> Empty Trash, an error message tells you that some items can't be deleted permanently for one reason or another. Here are four ways to force these items to disappear:
Restart and try again. This usually works.
In OS X 10.5 or earlier, hold down Option and choose Finder -> Empty Trash to delete locked items without getting an error message.
Open Terminal (in /Applications/Utilities). Type rm -r followed by a space. Then open the Trash, select everything in the Trash window, and drag it to the Terminal window. Now press Return. If an error message says that some items can't be deleted, repeat this procedure, but with sudo rm -r (followed by a space), and enter your administrator password when prompted.
Alternatively, you can try the following command in Terminal, which deletes anything in any of the places OS X uses for Trash (and displays a "No such file or directory" message if any of those locations is empty). Note: This requires that you confirm each deletion individually, but it's still dangerous—be very careful to type this in exactly, including all spaces: sudo rm -rdi ~/.Trash/* /.Trashes/* /Volumes/*/.Trashes/*
Senior Contributor Joe Kissell is the senior editor of TidBits and the author of Mac Security Bible (Wiley, 2010). Senior Contributor Kirk McElhearn writes about more than just Macs on his blog, Kirkville. His most recent book is Take Control of iTunes 10: The FAQ (TidBits Publishing, 2010).