Editor's Note: The following article is reprinted from Macworld UK. Visit Macworld UK's blog page for the latest Mac news from across the Atlantic.
The Apple Store in London's Regent Street was predictably busy this Friday at 5pm for the UK launch of the iPad 2.
First in the queue was Jewels Lewis, who had begun queuing early on Thursday morning. A few minutes before 5pm, he disappeared into the Apple Store and emerged 15 minutes later clutching his new iPad 2.
A little further back in the queue, some had been waiting for a full day—not quite as long as Lewis, but a fair amount of time in anyone's book.
"The queue really started to swell just after 4 a.m. when the first trains started coming in," Harry Barrington-Mountford told Macworld UK. Harry's girlfriend, Fenella Barnes, said that she had managed to get about an hour of sleep and praised the Apple Store staff for bringing food and refreshments. They were around 25 people from the front.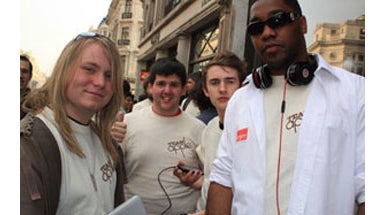 According to gadget insurance company Protect Your Bubble, there were some people in the queue at 1 p.m. on Friday afternoon, still four hours before the launch. When Macworld UK arrived at around 4 p.m., there were many, many more, and by 5pm the queue stretched around the corner into Hanover Street, around another corner into St George Street, before doubling back on itself back to the corner of Hanover Street again.
Just around the corner on Oxford Street, in a Three store, things were much quieter. Despite a large poster in the windows display showing the iPad 2, there were just 14 people in the shop waiting to buy a subsidised iPad 2 when Macworld UK checked in a few minutes after 5pm. A Vodafone store close to Bond Street station was similarly quiet.
Back in the queue for the Apple Store, some 35 percent of the people queuing were planning to buy the 16GB Wi-Fi only version, according to Protect Your Bubble's data. 75 percent owned an iPhone, with 10 percent owning Android-based handsets. One person owned up to having a Windows Phone 7 handset.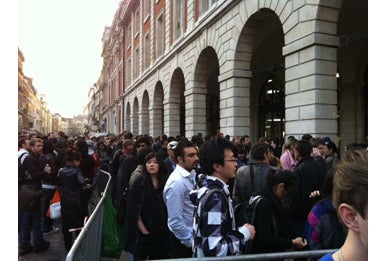 Sixty-two percent were planning to go for a Wi-Fi only model, but no-one that Macworld UK spoke to in the queue planned to buy the white version.
If you want to buy a Wi-Fi only version of the iPad 2 it'll cost you £399 including VAT for the 16GB model, £479 inc VAT for the 32GB model, £559 inc VAT for the 64GB model.
The iPad 2 with Wi-Fi + 3G will be available for a suggested retail price of £499 inc VAT for the 16GB model, £579 inc VAT for the 32GB model and £659 inc VAT for the 64GB model.
Subsidised iPad 2 deals are available in the UK from Three, Orange, T-Mobile and Vodafone.
However, if you're planning to buy online through the Apple Store, be warned— you'll face a wait of at least three to four weeks, up from the two to three weeks Macworld UK reported Friday morning.