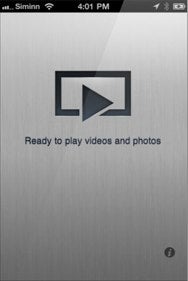 AirPlay's debut in iOS 4.2 last November allowed us to wirelessly stream media from an iPhone, iPod touch, or iPad to an Apple TV. In December, AirPlayer by developer Erica Sadun allowed us to stream media from an iOS device to a Mac. With AirFrame 1.0 from App Dynamic, the circle is now complete: we can stream media from one iOS device to another.
AAirFrame is essentially a one-trick pony, but it's a good trick. You can start AirFrame up on one device, which advertises it on the local network as AirPlay-capable (just like an Apple TV). On a second device, simply pick that first device as a destination when streaming media, and you have your own portable, wireless iOS theater.
Thanks to iOS 4.3, AirFrame should work with any AirPlay-enabled app—not just Apple's apps. You can watch an AirFrame demo in the video embedded below, or grab a copy of this universal app for yourself in the App Store for just $2. It requires iOS 4.2 or later.