Like many baseball fans, I like the game's stats almost as much as the game itself; give me a box score, an old-fashioned back-of-the-card career summary, or just about any statistical nugget related to Major League Baseball and you've turned my head. Add some eye candy—something that can help me visualize stats and data in context—and you've got my full attention.
This is why I was prepared to love Pennant, an iPad-only app from Vargatron that takes play-by-play data from all major league games played between 1951 and 2010 (including the playoffs and World Series) and provides users with a variety of options for viewing the data. The most compelling view is one that displays each at-bat as a spoke in a nine-inning wheel (longer, if the game went into extra innings, or shorter, if the game was called early). Tap on any line in the wheel—each line represents an at-bat—and a summary of what happened with that batter, and other players (if they were on base at the time) is displayed in text. Move your finger slightly, to the next batter, and the next, and you can go through the game batter-by-batter; alternatively, you can tap an arrow icon in the center of the wheel and have the game auto-played for you, from first out to last.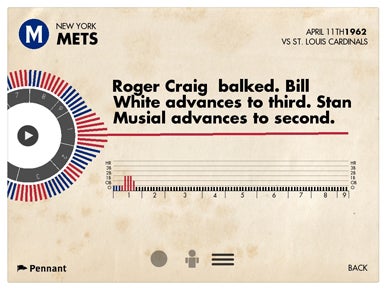 There are other views, as well, including one that enables you to see what the standings were on any date in a season. In addition to the wheel, you can go through the batter-by-batter data on a line graph, or tap and hold down a player's name (in a list of players active in that game), and you can see what he did, either as a batter or pitcher, for each at-bat.
While the graphics are initially stunning, the overall presentation ultimately is unsatisfying, and this is because there is nothing beneath the surface. You can see how Jim Bouton pitched, on a batter-by-batter basis, in a 1969 Seattle Pilots game, but you can't see how he did for the Pilots that season—you can't even view his line in a box score for the game. In fact, if you want to see how Bouton pitched for the Pilots in 1969, you have to select the Pilots, and, on a game-by-game basis, look to see if his name shows up in the list of pitchers. In other words, you can't select a pitcher (or batter) and see what games he played in, nor can you make any connections between players, teams, leagues, seasons, or time periods.
In some ways it's unfair to criticize an app for what it is not, rather than for what it is. Pennant explicitly credits Retrosheet.org for providing its data. But the same time, Retrosheet has done so much more with the exact same information that it's difficult not to make the comparison. And Pennant's flash doesn't stand up to Retrosheet's substance.
Pennant could also be viewed in the light of what Baseball-Reference.com has done with the same data. Through Baseball-Reference.com, I was able to sort the data and find out, without really trying that Bouton struck out 11 in a 10-inning complete game that season—something I had forgotten entirely.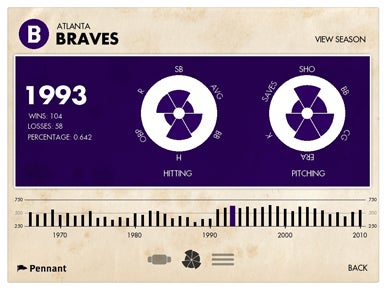 Pennant could serve up at least some of the depth, links, and data-sorting capabilities of these two sites—there's no rule against mixing textual and statistical information (like that can be viewed easily in an old-fashioned box score) with good graphics. Until it does, it will remain only an interesting example of how sports data can be visualized on a mobile device. The app's fleeting pleasure is disappointing, especially when you know that heartier fare made from the same basic ingredients is available from other vendors—and easily viewable on the iPad—for free.
[Jeff Merron is a freelance writer and editor living in North Carolina.]