Everybody wants a piece of the cloud, it seems, and Internet retailer Amazon is no exception. On Tuesday, the company launched its new Cloud Drive service, which provides online storage space for users. As part of the Cloud Drive service, users can also store digital music—from Amazon's MP3 store or elsewhere—and play that music back on their computers or Android devices, no matter where they are.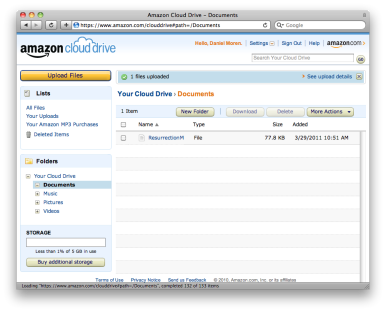 If you've already got an Amazon account, then setting up a Cloud Drive account is easy: You just log in to your existing Amazon account, agree to Cloud Drive's terms of service, and you'll be presented with 5GB of space, totally free. Once you log in to Cloud Drive, you can upload files from your Mac or PC via your Web browser and access them the same way. Amazon provides you with a few basic folders—Documents, Music, Pictures, and Video—but you can add your own, and organize your files however you like.
Amazon is also offering paid plans for those with heavier storage needs, to the tune of $1 per gigabyte per year, with tiers at 20GB, 50GB, 100GB, 200GB, 500GB, and 1000GB—so, for $20 per year, you'd get 20GB; $50 per year will get you 50GB; and so on.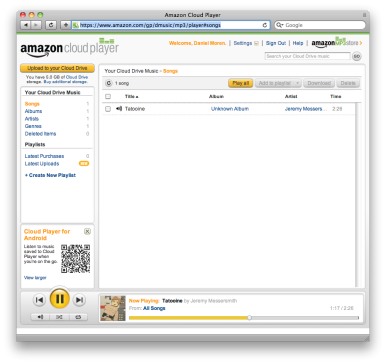 The real focus of Cloud Drive, however, seems to be music. While Apple is rumored to be planning an online "music locker" service, Amazon has gone ahead and done it. You can upload your music to Cloud Drive, and then play it back from any computer using the Cloud Player Web app. More to the point, if you subsequently buy music from Amazon's MP3 store, you'll have the option to save it to your Cloud Drive immediately—and that music won't count against your overall storage total.
To take it a step further, Amazon will also offer an additional 15GB of Cloud Drive storage space when you purchase any album from its online music store. The offer's good from now until the end of the year, and provides you the additional storage space for one year—after that, you have the option to pay to keep the upgrade or revert back to the free 5GB of storage space.
As good as that all sounds, the major failing of Cloud Drive at the moment is integration. Right now, the service is less Dropbox and more Google Docs: It doesn't provide the sort of convenient direct hook into the Mac's filesystem that Dropbox does.
However, Amazon is attempting to smooth that over by providing a couple of applications that ease the process of moving files between your computer and Cloud Drive. For example, if you want to upload music, you can use the Amazon MP3 Uploader app, which will let you filter and select tracks from your iTunes library to be uploaded to Cloud Drive. Likewise, the company has beefed up its Amazon MP3 Downloader program, previously just used to download tracks purchased from the retailer's digital music store, to also let you save files you've stored in your Cloud Drive to your computer. The Cloud Player Web app can also download songs to your computer, and can even be set up to download new Amazon MP3 purchases to your computer automatically.
At the moment, Cloud Drive also lacks any sort of iOS compatibility. If you want to play songs back on your iPad, iPhone, or iPod touch, you're out of luck: Amazon's only distributing an Android version of Cloud Player and the Web app relies on Flash—try to use it on your iOS device, and you'll get a note that your browser isn't supported. That isn't to say that iOS support won't show up eventually—after all, Amazon was quick to support the platform with its Kindle apps—but if Apple indeed has its own cloud music venture planned, Amazon may be using this opportunity to draw a line in the sand.