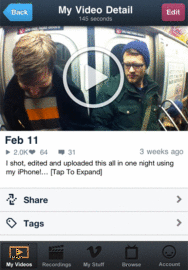 Vimeo has unveiled its first iPhone app, a versatile offering that allows you to edit video, post it to social networks, or watch short movies made by other users.
The Vimeo app debuted Tuesday in the App Store. You can use the app to shoot video—aided by focus control and grid alignment to steady your shots—then combine, edit, and trim videos while adding transitions, titles, effects, music, and other recordings. The edited videos can be saved to your camera roll or uploaded directly to Vimeo's Website.
Video can uploaded in high-definition or a lower resolution and uploads can be paused and resumed, depending on your proximity to Wi-Fi. You can also add a title, description, tags, and credits to the video's metadata. Once you're done, the short movies can be shared with Facebook, Twitter, Tumblr, WordPress, e-mail, or via text message. You can also queue up other users' videos in the Vimeo network for watching on your phone.
The free Vimeo app is compatible with the iPhone, fourth-generation iPod touch, and iPad 2 and requires iOS 4.0.1 or later. A free Vimeo account is also required to upload video.