At a Glance
Expert's Rating
Pros
iFunction Ring handy for quick settings
Smart Exposure mode is fun and relatively useful
Very good image quality up to ISO 1600
Large APS-C sensor in a slim camera body
Clear menu system is generally easy to navigate
Competitive pricing for a CILC
Cons
No pop-up flash
Slippery grip
Noisy lens focusing
Lacks built-in stabilization with kit lens
30-75mm zoom range of kit lens not wide enough
Lacks dedicated video recording button
Our Verdict
The Samsung NX100 is an innovative camera, but not always a practical one. The compact interchangeable lens camera has a handsome and slim body, but you should hang on to it carefully because it doesn't include a textured grip. Inside is a large APS-C image sensor that captures 14.6-megapixels of resolution. This means that you get the same sized sensor as in many standard DSLRs, but in a smaller overall package. Samsung designed a clever iFunction control system that lets you adjust some of the most common camera settings from controls on the lens itself. Yet, neither the 20-50mm kit zoom, nor the body, includes image stabilization. There's a smart system for automatic exposure selection, but no built-in flash.
When thinking about a NX100 as the next possible camera for you, the real question is, does innovation outweigh its shortcomings?
Features overview
Images look crisp and colorful on the 3-inch Active-Matrix Organic Light-Emitting Diode display, as does the menu system which is clear and easy to navigate. Text and number readouts look great on the LCD screen as well, particularly the shutter speed, aperture setting, and exposure compensation scale at the bottom of the display.
The NX100 provides plenty of control without forcing you to constantly delve into this on-screen menu system. For example, the iFunction ring and button combination on the lens allows you to quickly adjust exposure compensation, white balance, and ISO. (You can turn off or on the ISO and white balance options via a menu setting.) To enable iFunction, press the button on the left side of the lens and rotate the focusing ring to fine-tune the setting. Use the top jog dial to change the ring's function (or you can just press the iFunction button again), say from white balance to ISO. If you want the lens ring to return to its default role of focus adjustment, tap the shutter button once and you're back to where you began. Different exposure modes also add new controls to the iFunction ring. When you're in Aperture Priority, for example, you can adjust the f/stop adjustments using the focusing ring.
The NX100 also has a standard navigation wheel on the back of its body. Choose one of the settings displayed inside the wheel, such as drive mode, press it to bring the selections up on the LCD, then rotate the navigation wheel to make the change. Click the center OK button to lock in the setting.
Focusing is fast, even in low light. But the lens mechanism itself is a bit noisy, making what sounds like a grinding noise at times. Shutter lag is minimal. So if you're moving up from a compact camera, you'll enjoy the snappy performance of the NX100. Plus, its 3 fps burst mode is much faster than most consumer point and shoots.
Even though there's no pop-up flash atop the camera, there is a Smart Shoe that accommodates a variety of accessories, including three different external flashes, a GPS module, or an electronic viewfinder, all of which are sold separately.
You can activate the 720p HD (at 30 fps) movie mode by changing the mode dial and pressing the shutter button to start recording. The audio is single channel via a microphone located on the body and there's no external mic jack.
There are some additional useful touches on the NX100, such as spot metering, Raw+JPEG options, an HDMI out port, and auto ISO range controls to keep the maximum sensitivity in check when you're in auto ISO mode.
Using the NX100 with a Mac
JPEGs captured with the NX100 look fine in iPhoto, Aperture, Photoshop, and everywhere else on the Mac, which is no big surprise. Even though they are technically unsupported, iPhoto and Aperture can open raw files from the NX100, But they are unwieldy at best, showing odd color that's more trouble than they're worth to correct. Actually, it's surprising that the Mac recognizes them at all. Photoshop CS5 and Photoshop Elements 9 were undaunted, however, and handled the raw files well.
As for the MPEG-4 movies captured by the NX100, QuickTime Player displayed them well, with smooth playback and audio. Aperture didn't seem bothered by the format either during playback, but it did have a problem properly displaying the movie thumbnails in browsing mode. iPhoto didn't care for the movie format at all, and it refused to import the files claiming that they were an unrecognized format. Fortunately, iMovie was a bit more forgiving and imported the clips without hesitation.
There is a Samsung Raw Converter, but it wasn't included in the box for our test camera. The Samsung User Manual cautions that the software may not run properly on some computers.
Apple does support raw files from Samsung's older NX10 in Aperture 3, so it's quite possible that we may see similar support for the NX100 in a future update.
Image quality
Up to ISO 400, the image quality is excellent from the NX100. Photos have clean color fidelity with noise well controlled. Images were sharp with good definition. Between ISO 800 and 1600, the NX100 still performed admirably, but with more visible noise. Not a deal breaker by any means however. We don't recommend ISO settings higher than 1600 for this camera.
In our lab tests, the NX100 received a word score of Good for Exposure, Very Good for color, and Good for Sharpness and Distortion. Click on any of our lab's test images to view them at their original size.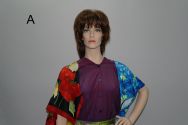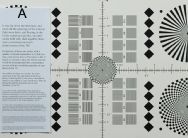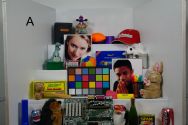 Video quality is good, but it's not on par with key competitors such as the Panasonic Micro Four Thirds cameras. And lack of an external microphone jack limits the usefulness of movies recorded with the NX100. It's video quality was unimpressive in our labs tests as well, receiving a score of Fair for video quality and audio quality.
Here are sample clips that we shot in bright indoor lighting and in and low light with the NX100. For the highest-quality clips, select 1080p from the drop-down menu in the lower-right corner of each player.
Camera drawbacks
Even though the price is a reasonable $450 for the NX100 with the 20-50mm kit lens, it's odd that neither the body nor the lens has image stabilization, a feature common in its competitors, such as the Sony NEX-5. Speaking of the lens, the Samsung kit zoom just doesn't seem wide enough (30mm effective) for general purpose use. Another oversight is the lack of a pop-up flash. The NX100 seems designed to lure compact shooters up to a larger sensor compact interchangeable lens (CILC) system. Those users are accustomed to an integrated flash, and will most likely miss its absence on this camera.
Macworld buying advice
The Samsung NX100 faces stiff competition from the likes of Sony, Olympus, and Panasonic. It does have a larger sensor than its Micro Four Thirds cousins, but it doesn't have the enticing lens selection and many of the refinements that we see in this class of camera system. There's a 50-200mm zoom, two pancake lenses (20mm and 30mm), and a planned 18-55mm zoom that should have been included in the kit instead of the 20-50mm lens.
At the moment, it isn't really a Mac-friendly camera. But that could change if Apple adds raw support. What the NX100 does have going for it is price. You can get the body and lens for $450 or less. So if you want solid image quality from an APS-C sensor camera for an affordable price, you might want to try one of these to see if it's singing your song.
[Senior Contributor Derrick Story teaches iPhoto on Lynda.com and runs a virtual camera club at thedigitalstory.com.]
Note: When you purchase something after clicking links in our articles, we may earn a small commission. Read our affiliate link policy for more details.