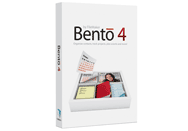 Bento 4 , Filemaker's personal database application for the Mac, is a perennial favorite because of how simple it is to use and how easy it is to sync data between your computer and your iOS devices. But there have been completely justifiable complaints about Bento—for such a consumer-focused application, it lacked some very obvious consumer-focused features. Namely, it was impossible to print labels with the application unless you resorted to a workaround using your Mac's Address Book app. The other issue was that, while Bento allowed you to print your data, what your printed data looked like was a glorified print screen, not a professional form that you'd want to send to your customers or friends.
Bento 4 fixes that, offering you over 250 label templates and giving you the option to create your own label templates if the one you need isn't available. In addition to labels, you can also export templates that contain data and Bento 4 has added a number of new field types that allow you to take advantage of location and audio information collected when you use Bento's iOS apps. In short, Bento 4 rescues Bento from being a kind of cute but impractical boutique application, making it an excellent and inexpensive way to manage a variety of data.
Bento's biggest shortcoming in earlier versions of the application was its inability to print labels. Odd, I know, given that Bento is geared toward home and small business users, probably the one crowd of users most likely to need a feature such as label printing. Now, Bento makes it impressively easy to print custom labels from any Bento collection, but in a way that is far different than you might expect. For example, if you want to print address labels for your holiday cards, you select your Holiday List library, then select File -> Print -> Labels. When Bento's print dialog opens, you see a special label printing menu where you can select the label you want to use from a pre-defined list of standard labels or create your own from label measurements. Addresses are added using a single checkbox, but you can also add your own text, images, or other database fields.
While using a print dialog for label layouts may seem counterintuitive' most applications, including Filemaker's flagship application' have you create a label document that you then merge your label data into. Bento, by using the print dialog, effectively eliminates your need to fiddle with merge fields, which pretty much takes the difficulty out of the whole process. Furthermore, using Bento's Spotlight-like search field to select records and then choosing the print label option, you can quickly and easily create a filtered list of the contacts that you want to print labels for. For the smart search-minded, create a Finder-like Smart Collection, and you can easily filter out only the data you want to see and print on labels.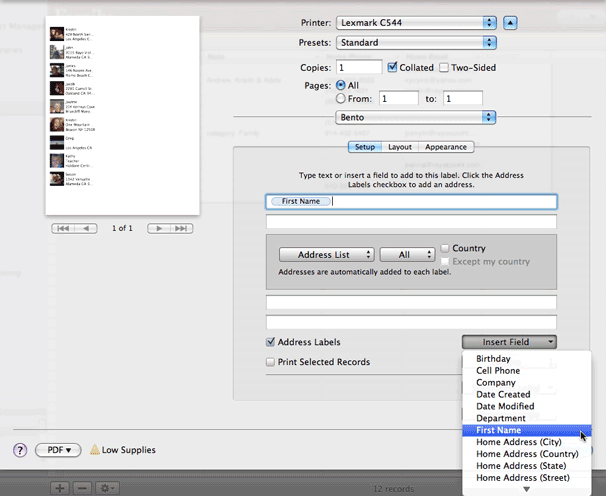 Beyond label printing, Bento adds several new features and enhancements that increase the application's usability and make it something more than just a box to put your stuff in. The previous version of Bento introduced Simple Lists, which was a very basic table that you could add to any form and to which you could add text-based information. Now, Simple Lists support different data types, such as numbers, currency, or time, and can perform calculations and provide summaries for any field in the Simple List table. Bento has also introduced Location fields that you can use to capture and display location information. Bento for Mac is capable of capturing this information, but these fields become most useful when you're using Bento for Mac in conjunction with an iOS device with a built-in GPS, such as an iPhone. Once captured, Bento can use that information and pinpoint it using Google Maps.
Bento 4 adds two new forms templates that, according to the company, offer enhanced printing capabilities. These forms, one called Etched and the other Classic, each offer a simple look and feel that limit the number of colors used when printing and, when printing, the Bento print dialog allows you to hide field labels and borders. But, while form printing in Bento has improved, your printed output still tend to look more like a screenshot than a business-quality form.
Previous version of Bento allowed you to export blank templates so you could share them with other Bento users. Now you can also include data in those templates, which makes it much easier to transfer the information you've collected to other people. Bento also features a new form lock, which, when turned on, keeps you from accidentally moving fields with an errant click-and-drag.
Macworld's buying advice
Bento gets better with every new release and Bento 4 is no exception. The necessary addition of label printing gives Bento 4 what it needs to make it a practical database application, while thoughtful enhancements to existing tools and features give it more depth than should be expected of such an inexpensive application. Combined, these features make Bento 4 the best consumer-oriented database you'll ever lay your hands on.
[Jeffery Battersby is a regular contributor to Macworld. Get more Jeff than you want on the Revenge of the Fanboy! podcast ( revengeofthefanboy.com) and at jeffbattersby.com.]