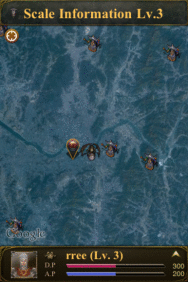 A new role-playing game for the iPhone uses Google Maps to let players battle monsters in their own neighborhood.
Geo Hunters has debuted in the App Store, game developer YD Online announced Tuesday. The app lets you take a picture of your face and attach it to your game's character—a warrior, a hunter, or a wizard—and battle invading aliens on a satellite-view landscape of the actual neighborhood where you're playing.
But the app isn't merely location-centric—it will also reflect (through the lens of fantasy) what's going on in the news. While you might defeat and capture monsters in your own neighborhood using weapons, armor, and potions, developers say new monsters will pop up on maps around the world to reflect areas that are currently appearing in the headlines. And there's also the social aspect: once you've defeated a monster and added him to your collection, other players in the game can try to steal the creatures—along with the power they give you—and add them to their own menagerie.
Geo Hunters is free, and compatible with any device running iOS 4.3 or later.