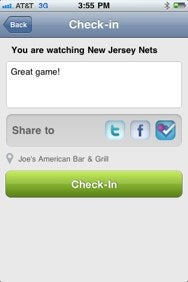 With GetGlue for iPhone and iPad, you check in to let your friends know when you're watching your favorite show or reading a new book. With Foursquare, you can check in to locations to discover new places around your city or to make it easier for friends to meet up at a new bar. Now these two great tastes can taste great together in the latest update to GetGlue for iPhone.
GetGlue has received an all-around facelift and injection of key new features, one of the most interesting being Foursquare check-ins. Now you can tell friends that you're watching, say, Mike Doughty at Lincoln Hall, and your GetGlue post becomes a dual-purpose utensil—like a spork—that equips your friends with useful information about what you're doing and where.
Of course, watching sports can be quite the social event, so GetGlue has finally built in custom support for teams, leagues, and networks. Naturally, checking into sports goes hand-in-hand with the new Foursquare integration, and GetGlue has also added a handful of new sports-based rewards like coupons and free items from a variety of networks, including the NFL, NHL, Turner Sports, HBO Sports, the Big Ten Network, and more.
A handful of other new features and perks make this unassuming GetGlue 2.4.1 update a big deal for its growing user base. The update is now live and available for free in the App Store for any iPhone or iPod touch running iOS 3.1 or later.