Reader Michael Perini has come to rely on a utility when a keyboard shortcut proves to be the better tool. He writes:
I've found one of the most useful utilities for explaining things or collaborating with others is Grab. It allows you to pick even a tiny piece of a screen and say Look at this. But I was trying to explain something in Aperture and wanted to grab a drop down menu, and later a pop-up of all adjustments that had been done to an image. I could not figure out how to capture a momentary window, because as soon as you go to Grab they disappear. This seems true of most drop down or pop-up windows in any application. I was stumped. Is there an easy way to do that?
There is. And that easy way is to use a keyboard shortcut rather than Grab. These are the default shortcuts followed by their functions:
Command-Shift-3 = Captures the entire screen.
Command-Shift-4 = Freezes screen, allowing you to select a portion to capture.
Command-Shift-4 then press Spacebar = Allows you to capture a specific menu or window. Just move the camera cursor to the object you want to capture.
If you add the Control key to these shortcuts, the image is captured to the Clipboard rather than placed on the Desktop as a PNG file.
In your case, you'll want to focus on those keyboard shortcuts that include the number 4. Invoke those shortcuts and you'll find that any windows and menus will freeze in place, allowing you to select them.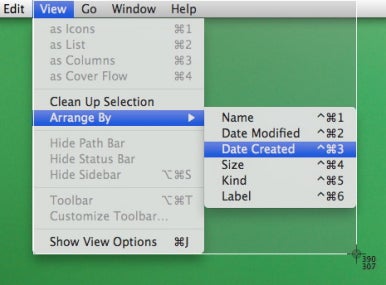 Speaking of keyboard shortcuts, here's a bonus tip: There are some things that will not be captured using these keyboard shortcuts, and yes, Front Row, I'm looking at you. A colleague asked how he might capture a Front Row screen for a story we're working on. My suggestion was this:
From another Mac, use Screen Sharing to log into the Mac running Front Row. Do this and you can capture that other Mac's screen using the standard keyboard shortcuts on the host Mac. I used this technique to perform the screen capture you see here. (Be sure that on the host Mac you click outside the Screen Sharing window before you take the screen shot. Otherwise the remote Mac will assume that shortcut was meant for it, and dump out of Front Row.)