These are heady days for Neon Play. The iOS developer found itself thrust into the spotlight when one of its games turned out to be the 10 billionth download from Apple's App Store. And now Neon Play is hoping to turn that sudden attention into impressive download figures of its own.
Which raises the question: Are Neon Play's assorted casual games worthy of space on your iOS device? To find out, I downloaded a handful of the developer's games and started playing.
Let's start with Paper Glider, the game that secured Neon Play's place in history as the App Store's lucky 10 billionth download. A free app like so many of Neon Play's offerings, Paper Glider features a simple premise—you flick a paper airplane across the screen of your iOS device to see how far you can make it fly. To keep your virtual aircraft aloft across city, country, jungle, desert, and even outer space landscapes, you can tap the screen to provide a gust of wind, but you've only got so much air-power at your disposal. Paper Glider keeps track of your top 10 distances, and you can compare your scores to other players' via integration iOS's Game Center feature. The game is optimized for the iPad, though really, it's just an enlarged version of the same game you play on the iPhone and iPod touch.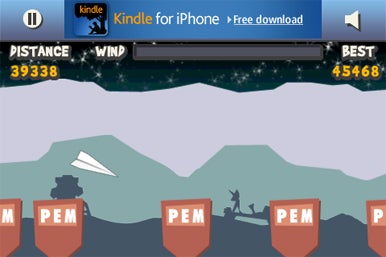 This is all very rudimentary stuff, which doesn't stop it from being surprisingly fun. If you're anything like me, you'll return to Paper Glider over and over again, trying to top your best distance. I find myself launching the game when I'm stuck in a line, cooling my heels in a waiting room, or looking for a not-terribly-complex distraction. That said, Paper Glider is ultimately as disposable as the virtual paper airplanes at your command. There's no variation to the gameplay, so over time, the addictiveness wears off.
Traffic Panic offers equally simplistic gameplay with less successful results. In this free game, you control the flow of traffic in one direction at a busy intersection. You tap on the screen to make cars stop and start, taking care to get them through the intersection without getting t-boned by the oncoming traffic. In addition to classic mode, there's also a timed game, though a single collision brings both games to a screeching halt. The longer you play without a game-ending fiery collision, the more points you rack up; you also earn coins, which you can use to add power-ups and unlock new courses. (Impatient players can buy coins as in-app purchases.)
Unlike Paper Glider, which uses simple, cartoonish graphics and ambient noise to great effect, Traffic Panic suffers from an uninteresting look. The cars are tiny, the clever graphical touches are non-existent, and the ambient noises—screeching tires and revving engines—are fairly pedestrian. More significant, repetitive tapping leads to some pretty dull game play. And occasionally, one of the iAds that helps keep the game free would pop up over the field of play, forcing me to tap Done in order to return to a clear view of the screen. I don't begrudge developers the right to make some money off their efforts, but having an ad appear over the game while I was playing is very off-putting.
Gaming sessions don't tend to last too long, so the process of scoring coins to unlock new and exciting features is pretty tedious, which doesn't help matters. Perhaps I've spent far too much time stuck in traffic to enjoy this game, but I just didn't find Traffic Panic engaging enough to hold my interest—a bad quality to have in a casual game.
Neon Play fares much better with a pair of sports games. Flick Football—that's the other, better kind of football, you provincial North Americans—tasks you with flicking kicks past a wall of defenders and a dodgy goalkeeper and into the back of the net.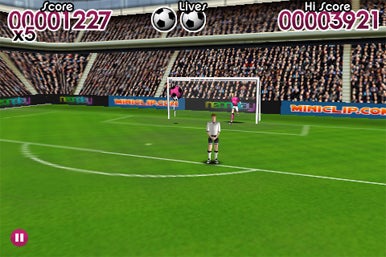 As with Neon Play's other games, the controls are very simple—all you're doing is flicking your finger—but it's a real challenge to hit the target. You score points for each goal, and you can also hit specific targets for bonuses and power-ups. (Like Paper Glider, Flick Football is optimized to run on the iPad, though again, it's just a larger version of the iPhone-iPod touch game. Interestingly, I found the extra screen space increased the likelihood of errant shots, though that's more the fault of my meaty fingers than it is a flaw with the iPad implementation of Flick Football.)
Flick Football mixes things up even further with a trio of gameplay modes—one in which you're afforded three missed shots, another in which you compete against the clock, and a third "sudden death" mode in which one missed shot ends the game. That variety coupled with the challenge of bending your shots Beckham-like around an ever-increasing wall of defenders from different angles keeps Flick Football fresh. There's an excitable announcer who enthuses at your every goal and lambastes you for each miss, while a peppy rhythmic soundtrack plays in the background. It's really an enjoyable game.
The shoe is on the other foot in Flick Football Super Save. You're a goalkeeper—or more accurately, a pair of disembodied oversized goalkeeper gloves—and you've got to prevent those shots from finding their way into the net. Flick Football Super Save expands the number of games to four—in addition to the "three lives" and "sudden death" modes, there's a "bend it" game, where you face an array of physics-defying shots, and "multi-ball," in which you're nightmarishly pummeled by an onslaught of rapid-fire shots. Here, Neon Play really has the "more game modes means more engaging gameplay" formula down pat.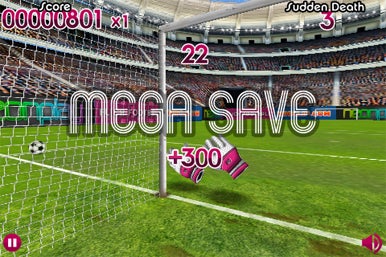 The developer has also enhanced the little details in Flick Football Super Save. That excitable announcer is even more excitable here, with a more varied vocabulary for praising (or damning) your performance. Footy fans will appreciate knowing references to Peter Schmeichel and Peter Shilton (though I would not advise West Ham United 'keeper Robert Green to download the game if he doesn't want a painful reminder of his blunder from last summer's World Cup).
The trick to creating a good casual game is to keep the controls simple enough so that players can master them in an instant, but to make the gameplay varied enough so that users keep coming back for more. From what I can see, Neon Play gets this formula right more often than not, with the two Flick Football offerings representing the best of the developer's efforts.
[Philip Michaels is executive editor of Macworld.com]