Amazon.com recently introduced Cloud Player, an Internet-based service that allows you to store up to 5GB of music and access that music from a Web browser, Android device, and—if you know the trick—an iOS device. Here are the steps for using Cloud Player.
Step 1: Sign in and launch Cloud Player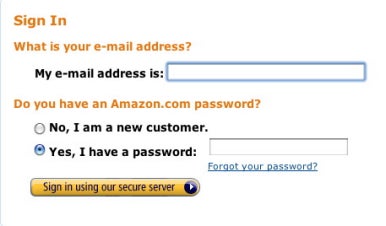 Travel to the Amazon MP3 site and click Launch Player. In the resulting screen you'll be prompted to sign in with the e-mail address and password associated with your Amazon account. (If you don't have an Amazon account, click the New Customer Start Here link at the top of the page to sign up for an account. A credit card is required.) Enter this information and click the Sign in Using Our Secure Server button.
Step 2: Download Amazon MP3 Uploader
In the resulting page, you'll see the contents of the music folder on your Cloud Drive (Amazon's name for its online storage space). Here you'll find entries for Songs, Albums, Artists, Genres, Deleted Items, Latest Purchases, Latest Playlists, and Create New Playlist. If you don't have a copy of Amazon's MP3 Uploader, a window will appear prompting you to download it. This is an Adobe AIR application that, when installed and launched, makes it easier to locate tracks in your iTunes library and upload them to the Cloud Drive.
Step 3: Upload some music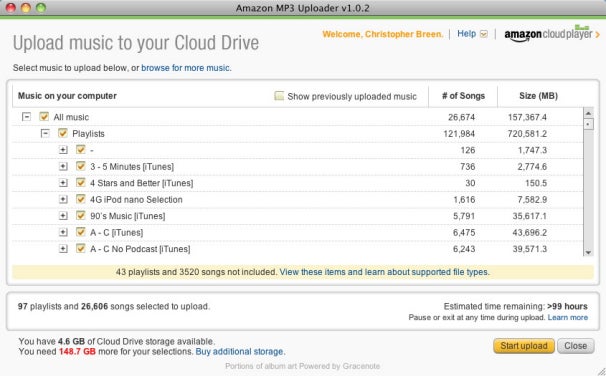 The MP3 Uploader will churn through your iTunes library and eventually detail the number of songs and playlists it found that aren't on your Cloud Drive. Near the bottom of the window you'll see the amount of storage you have available as well as how much more storage you'll need to upload all your compatible music (along with a Buy Additional Storage link). Compatible music includes unprotected MP3 and AAC files. The service doesn't support WAV, AIFF, Apple Lossless, FLAC, or Ogg file formats. Similarly you can't upload tracks greater than 100MB, nor ringtones, podcasts, audiobooks, and, according to Amazon, "other non-music audio files."
If you have a fairly small music collection that can fit in 5GB of storage, click the Start Upload button and all of your music will be uploaded to the service. The estimated time this will take appears in the window's bottom-right corner. If, like many of us, there's no way all of your music will fit, click the plus (+) button next to the All Music entry. This reveals Playlists and Artists entries with plus buttons next to them.
Click the plus button next to one of these entries, and you'll see your iTunes playlists and artists, respectively, with a check mark next to each one. If you click the plus button next to a playlist, you'll see the contents of that playlist, but you won't be able to upload individual tracks from that playlist—it's all or nothing. However, you can select individual albums and tracks listed under the Artists entry. To uncheck everything in these lists, just uncheck the main Playlists and Artists entries.
You're not confined to uploading just tracks from your iTunes library. If you'd like to venture to another location on your Mac, click the Browse For More Music entry at the top of the window. A Select a Folder window appears, from which you navigate to tracks you'd like to upload.
Once you've selected the tracks you want to upload, click the Start Upload button at the bottom of the window. A progress bar appears here. To pause upload, click the aptly named Pause Upload button.
Step 4: Organize and listen
With your music floating about in the ether, you can now organize it and listen to it. Just return to Amazon MP3, click Launch Player, and there are your uploaded tracks. One good way to organize your music is to create playlists. To do that, click the Create New Playlist link, and you'll be prompted to name your playlist. Once you've done that and clicked Save, select those tracks that you want to add to the playlist. An easy way to add an album or artist to a playlist is to select Albums or Artists from the Cloud Drive music area, and then click the downward-pointing triangle that appears when you select an album or artist entry. From this menu choose Add to Playlist, choose the playlist you'd like to add the tracks to, and click Save. Alternatively, you can select tracks and click the Add to Playlist button near the top of the track list; you then choose the playlist to which you want to save tracks.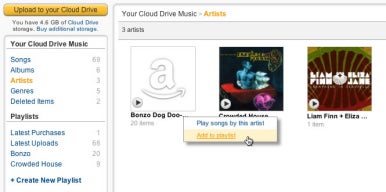 To play your music from within your browser, select some music—open a playlist for example—and click the Play All button. Or, as with previews within the iTunes Store, just click the Play icon that appears next to tracks when you hover your cursor over them. The Cloud Player streams tracks to your computer at their native bit rate. So, if you upload a 256kbps MP3 file, that's the quality of stream you'll receive.
The Cloud Player doesn't support the playback of these tracks on an iOS device. This is not a technical issue, however. Rather, Amazon is looking for browsers identified as Mobile Safari. When it receives a request from just such a browser, you see a message that your browser is not supported. This is not a limitation of the iOS device, but rather Amazon's unwillingness to stream this content to iPhones, iPod touches, and iPads.
The proof is in an alternative browser. Download a copy of another iOS browser— Atomic Web Browser or iCab Mobile. Each of these browsers allows you to change the transmitted identity of your browser. If, for example, you choose to identify the browser as Safari Desktop, you can access the contents of your Cloud Drive. Once you do, simply tap a track and then tap the triangle menu icon. From the menu that appears, select Download. A QuickTime window will appear, and your track will play. Regrettably, there doesn't seem to be a way to play a series of songs with one command. Rather, you must play each song using this tap-and-download method.
Step 5: Download your tracks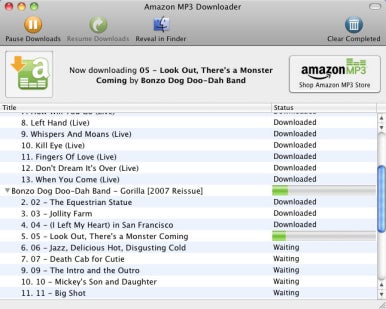 One of the selling points of Cloud Player is that regardless of which device you have with you (within limits when it comes to iOS devices), you should have access to your music. So, for example, if you uploaded your music from your home iMac and want to access it on your laptop, you just dash to Cloud Player and get it. Not only can you stream your music, but you can also download it.
To do that, just select the tracks you want to grab, and click the Download button. The Amazon MP3 Downloader will launch (you'll be prompted to download a copy if you don't have it), and the music will download to your computer.
Step 6: Get more storage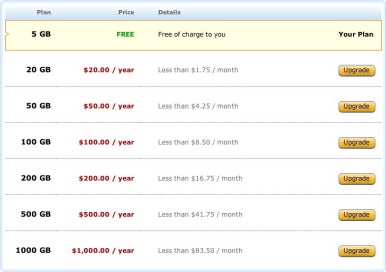 There are a couple of ways to get more storage than the free 5GB offered by Amazon. The first is to purchase a digital album from the Amazon MP3 store before January 1, 2012. Do that, and your account will be upgraded to 20GB of storage for a year from the date when you purchased the album. When that year expires, you must pay for the additional storage if you wish to keep it or revert back to the 5GB plan.
You can also purchase additional storage. Click the Buy Additional Storage link at the top of the page and you'll find that you can purchase 20, 50, 100, 200, 500, and 1000 GB plans for $1 per gigabyte a year. (That means $20 a year for the 20GB plan and $1,000 a year for the 1000GB plan.)
You also get a free sort of storage when you purchase music from the Amazon MP3 store. When purchasing digital music, you have the option to store it on your Cloud Drive. These purchases don't count against your storage limit.
Note that this storage can be used for more than music. At the top of your Cloud Player window, you'll find a Cloud Drive link below the Upload to Your Cloud Drive button. Click this link, and you'll see four entries—Documents, Music, Pictures, and Videos. Select one of these entries, and you'll find the option to upload content to your Cloud Drive using the standard Mac navigation window.
[Christopher Breen is a senior editor at Macworld.]